Cobra Kai Season 4 - The Loop
Play Sound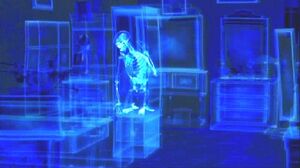 X-ray vision is the ability to see through physical matter.
Kryptonian
Kryptonians develop x-ray vision after becoming exposed to an environment with a yellow sun, allowing them to see through physical matter. Brainiac, as a kryptonian android, has superior vision and can see things on a subatomic level.
Characters who have displayed x-ray vision
Appearances
Notes
Gallery
In The Comics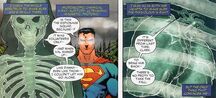 Superman's vast senses grant him the ability to see through solid objects, usually with the exception of lead. Explanations for how this power works vary, but rarely include the emission and perception of actual X-rays, as such high-energy radiation would actually be dangerous to living things he uses it on. A more common theory involves being able to see and concentrate on the patterns of natural cosmic radiation as it reverberates off objects.
See also
References