Wayne Manor is the stately residence of billionaire Bruce Wayne, secretly the costumed vigilante known as the Batman. The residence is typically depicted as a huge stately mansion on grounds outside Gotham City, maintained by the Wayne family's servant, Alfred Pennyworth.The manor had belonged to the Wayne family for several generations. Under all the expensive china and bookcases, it also serves to hide the massive underground cave used as Batman's base of operations, the cave.
Physical Appearance
Exterior
Interior
The Cave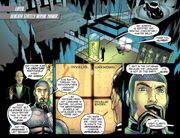 The Batcave serves as Batman's command center, where he monitors all crisis points in Gotham and the world. The cave's centerpiece is a supercomputer whose specs are on par with any of those used by leading national security agencies; it permits global surveillance and also connects to a massive information network as well as storing vast amounts of information, both on Batman's foes and his allies. A series of satellite link-ups allows easy access to Batman's information network anywhere in the globe. The cave houses Batman's vast array of specialized vehicles, foremost being Batman's car the Batmobile. There is also a display case which included the 4 versions of Batman costume, each with minor changes. The Cave is located beneath Wayne Manor, in Gotham City.
Known Residents
Owners
Staff
Season Eleven
Notes
Trivia
Appearances
See also
References
Links
Community content is available under
CC-BY-SA
unless otherwise noted.