Doctor Strange in The Multiverse o Madness - The Loop
Play Sound
"Turbulence" is the sixteenth episode in the eighth season of Smallville, and the one hundred-sixty-eighth episode overall. It aired on March 19, 2009.
Summary
Tess invites Clark to a press conference in L.A., but when an explosion rocks the private jet they are on, Clark must figure out how to save them without Tess learning his secret. Unbeknownst to Clark, Tess orchestrated the explosion to get Clark to reveal his powers to her. Meanwhile, Davis discovers a way to control the monster within.
Recap
→ see also Category:Screencaps from episode 8x16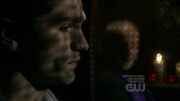 Davis is in a church confessional booth. He is upset and tells the priest that he has a demon inside him that takes over. He explains that he drives the streets of Metropolis looking for criminals and when he stops them from committing crimes, it helps keep the beast from taking over. As he speaks, he visualizes actually killing the criminals and that prevents his transformation into Doomsday.
Chloe arrives at the Kent Farm as Clark is just off to work. She remarks that the papers are reporting the most saves in one night ever by the Red-Blue Blur. Clark is extraordinarily proud of this. He has even started actually slowing down so that traffic cameras can record him. Chloe thinks he is in danger of exposing his real identity, but Clark says he believes seeing the Blur gives people hope. He demonstrates to Chloe how he's gotten to be expert at changing into his red jacket and blue shirt in the blink of an eye, keeping his hero clothes in a knapsack. Chloe worries that all the knowledge Lex had on him is now in the hands of Tess Mercer, but Clark tells her that she should be worrying about Jimmy, who has been transferred to Metropolis General. Clark doesn't think Jimmy is doing well and feels guilty for not having protected him from the creature, but Chloe is hopeful that he is recovering.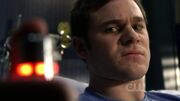 Chloe arrives at the hospital to see Jimmy. She gently chides him for trying to give himself an extra dosage of pain medication. He tells her that he is in extreme pain and just wants to go home. Chloe suggests he talk to a psychologist. Chloe is worried about him but Jimmy thinks that since they made it through the attack at their wedding, they will stay together.
That evening, Jimmy has a nightmare about the wedding and his injury. He awakens and, getting no response to his calls for a nurse, goes into the hallway to ask for more pain medication. He is approached by a man frantically running down the hall. Jimmy follows the man to the end of the hallway and sees him caught by a hooded figure in an elevator. The figure kills the man and turns to face Jimmy, and Jimmy recognizes it as Davis.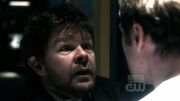 Clark is at work at the Daily Planet looking for ways to save people when he is approached by Tess. She teases him about his school backpack and is just about to open it when Clark takes it from her. She tells him that she wants him to accompany her to a press conference in Los Angeles to announce the formation of the Mercer Media Group, saying it would be great for his reporting career.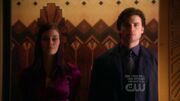 Chloe is back at the hospital, having been summoned by the police. Jimmy tells her that he saw Davis kill someone. Then Davis arrives and says he has spent the past six hours being interrogated by police because of Jimmy's accusation. He explains that a drunk driving suspect was loose in the hospital after his arrest and that Jimmy was also found, wandering around and out of it. He says Jimmy's pain pump was faulty and giving him double doses. Chloe is skeptical and Jimmy denies it, but Davis says the doctors and nurses will verify it. He excuses himself and Chloe follows him out to apologize for Jimmy. Davis thinks Jimmy is targeting him because Davis kissed her, but Chloe tells him she never told Jimmy about that. Davis says he is moving on but will still be friends. Chloe starts to cry and admits that she wonders whether, if Jimmy had never met her, he wouldn't be having these problems. Davis gives her a comforting hug, as Jimmy spies them from his room.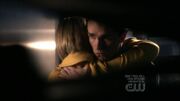 Clark and Tess are on Oliver Queen's private jet on the way to LA. Tess mentions that she had the tracking device that Lex put in her removed. Clark asks if Lex talked about him and Tess reveals that Lex kept a journal, but doesn't tell Clark what it says. Clark gets the idea that they should share a drink.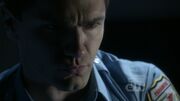 Jimmy sneaks into Davis's ambulance rig and looks around. He finds the drunk driver's body stashed in the back. He is so shocked, he jumps back and crashes into a glass compartment, cutting his hand. Davis catches him snooping, wondering if he is looking for more pain medication. Jimmy accuses him of killing the drunk driver and stashing the body, and Davis implicitly admits it but counters that the driver had killed innocent people. Jimmy is shocked and Davis suddenly injects Jimmy with something to knock him out.
Jimmy awakens in his hospital bed, hearing Chloe screaming his name. He tries to find her in the hospital and finds her running for her life. She locks herself in an exam room and Jimmy watches in horror as the creature from their wedding seemingly murders her. Jimmy is screaming and pounding at the door when the doctors and nurses try to calm him down. When Chloe arrives on the scene, unharmed, he realizes that he was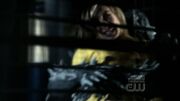 hallucinating.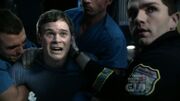 Clark and Tess are still on the plane, and Tess is a bit intoxicated so Clark asks again what was in Lex's journal, but she refuses to tell him. Instead she tells him about how her father was an alcoholic who abused her. Clark remarks that she was able to overcome a difficult childhood but Tess says that like Clark, she is just good at hiding it. Clark feigns innocence but Tess is convinced that Lex's obsession with him proves otherwise. She asks him to tell her his "deep, dark secret", as she has told him hers but Clark claims he doesn't have one. Tess moves away to speak to the pilot, and moments later there is an explosion and the plane depressurizes. Clark goes to find the pilot and sees the cockpit window smashed, while Tess goes and finds parachutes. However, she tells Clark that she cannot find any. She starts to pass out and Clark puts an oxygen mask over her face, while at the same time bending the tube to disrupt the airflow. When Tess passes out, Clark picks her up and jumps out of the plane, seconds before it explodes.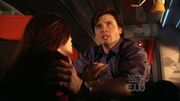 Davis is watching a criminal break into a building when he is hit on the head with a pipe by Jimmy Olsen. He is stunned and Jimmy handcuffs him to a chain-link fence. Jimmy confronts him and tells him he knows he wasn't hallucinating when he found the dead body in Davis's rig, because the cut on his palm is still there, and he again accuses him of murdering the drunk driver.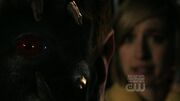 Jimmy has called Chloe because he wants Davis to confess to her. Jimmy thinks Davis is trying to steal Chloe away from him. Davis begins to transform and warns Jimmy to leave. He breaks one of the handcuffs. Jimmy prepares to hit him again but is tasered unconscious by Chloe. His back turned, Davis continues to transform, telling them to get way, as she checks on Jimmy. She tries to calm Davis down and lays a hand on his shoulder. Davis's transformation ceases and reverses.
Clark arrives at the Luthor Mansion to check on Tess. She says she is unharmed and knew when she woke up in the emergency room that Clark had saved her, but the pilot's body hasn't been found. Clark claims he found only one parachute and used it to save them both, but Tess knows he is lying because she had seen two. However, she says she hopes their experience has brought them closer. When Clark promises to keep her confidence, she tells him that he makes her feel safe. She also tells Clark that he can trust her and says that she may run his company and live in Lex's house, but she is not Lex. Clark says nothing and leaves.
At the farm, Clark talks to Chloe about his experience with Tess, saying that he thinks she knows his secret. Chloe thinks he should stay away from Tess by quitting the Daily Planet and making the Red-Blue Blur less visible. She thinks Tess is dangerous because she tried to kill Lana but Clark thinks she was only trying to stop Lex. He wonders if Tess can be trusted. Chloe warns him to be careful. She then changes the subject, saying she will be taking Jimmy home from the hospital. She thinks they have made it through the worst and will have their 'happily ever after'. After she leaves, Clark looks thoughtful.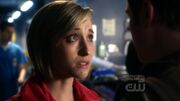 Chloe gets instructions from Jimmy's discharge nurse about how to manage his pain medication but Jimmy snatches them out of her hand and goes to leave. She reminds him that he isn't alone but Jimmy angrily says he can take care of himself. Chloe tries to explain that Jimmy would have regretted assaulting Davis, but Jimmy is still hurt that Chloe took Davis's side over what has happened.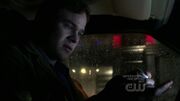 Aware that people can hear them, Chloe asks to continue the conversation at home and Jimmy snaps. Making a scene in the hospital hall, he yells that he's done trying to make them work, because Chloe has never trusted him. He refuses to leave with her and says that marrying her was the biggest mistake of his life, and then storms out. Chloe is left alone, in tears.
Jimmy barges into Tess's office at the Daily Planet and tells the security guard that he quits. He leaves a folder on Tess's desk containing a photograph of Davis and some murder victims, plus a handwritten note telling her to "meet Davis Bloome."
Clark continues his Red-Blue Blur duties.
Tess gives the pilot a case full of banknotes, revealing that she had staged the plane crash to make Clark use his powers to save her.
Jimmy is driving away, and takes much more than the recommended dosage of his pain medication.
Meanwhile, Chloe is at home, still crying.
Davis is standing out in the street in the pouring rain.
Cast
Starring
Co-Starring
Christopher Gaze as Priest
Bart Anderson as Drunk
Daren A. Herbert as Tess' Assistant
Chasty Ballesteros as Nurse
Frank Topol as Security Guard
Richard Harmon as Gaunt Teenage Addict
Sheldon Yamkovy as Drug Dealer
Featured Music
"I Don't Care" - Apocalyptica (featuring Adam Gontier)
Title
"Turbulence" means "a state or condition of confusion, movement, or agitation" and is often used to describe temporary unstable conditions of an aircraft.
The episode name refers to the Queen Industries private jet that suffers from turbulence after Tess' planned explosion.
It can also refer to the unstable state of Chloe and Jimmy's relationship.
Notes
Antagonist: Tess Mercer and Davis Bloome
Lois Lane and Oliver Queen do not appear in this episode.
Chloe is shown being killed for a second time by Doomsday in this episode, although it is later revealed to be a hallucination. The first shown in Infamous was in an alternate timeline, whereas this time it was in Jimmy's dream.
When demonstrating his ability to change clothes in super-speed, Clark has his blue T-shirt underneath his business clothes, referencing Clark wearing his blue Superman suit underneath his business clothes in the comics.
Chloe states that Jimmy has been recovering for a period of five weeks. According to the wedding announcement seen in Committed, their wedding took place in late November, meaning this episode takes place sometime in late December 2008 or early January 2009.
At the end of the episode Clark changes into his red and blue blur clothing in a phone booth. This is an allusion to Superman's well known habit of changing in telephone booths.
Tess sports straight hair in this episode for the first time instead of wearing her hair curly.
Trivia
Continuity
Allusions
Locations
Smallville
Metropolis
Other
Quotes
---
Tess: What about what Lex put you through? He pretended to be your friend for how many years?
Clark: I'd like to think that there was a time when Lex and I had a real friendship.
Tess: That wasn't a friendship. Clark, you were his obsession. Lex wanted so much to be like you. But he knew-- he knew in his heart he never could.
---
Jimmy: Look, I realize now that you just don't trust me. You never have!
Chloe: Of course I trust you, Jimmy! I trust you with my whole heart, I'm your wife!
Jimmy: And that's what I don't understand! Why the hell did you even marry me?!
---
Jimmy: (to Chloe) Marrying you... was the biggest mistake of my life.
---
External links