Thomas John Patrick "Tom" Welling (born April 26, 1977) is an American actor, producer, director and a former model. He is most famous for the role of Clark Kent on the television series Smallville.
Welling was born in Putnam Valley, New York. His father is a retired General Motors executive and his mother a home engineer. He has two older sisters, Rebecca and Jamie, and a younger brother, Mark, who is also an actor. His father's job often required relocation, first moving from Putnam Valley, New York (his birthplace) to Hockessin, Delaware, then settling in Okemos, Michigan at the beginning of Tom's sophomore year in high school.
Welling was active in many team sports including baseball, basketball, and excelling in soccer, playing the position of goalkeeper. He graduated from Okemos High School in 1995. After graduation he worked as a construction worker and continued to live with his parents.
Career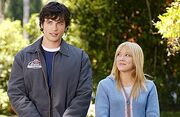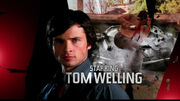 In 1998, Welling was discovered by a catalog shoot scout who suggested he try modeling. In 2000, Welling relocated to Los Angeles where he modeled for Tommy Hilfiger and others, while simultaneously pursuing an acting career. Welling's first major role was six episodes on Judging Amy in 2001, playing opposite Amy Brenneman, and as a love interest and karate teacher. He later appeared in Special Unit 2 and Undeclared. He was chosen as Clark Kent in Smallville after a nationwide search.
In December 2003, Welling played the oldest son of Steve Martin in the big screen adaptation of Cheaper by the Dozen. He has now since appeared in the sequel Cheaper by the Dozen 2, and the horror remake of The Fog. Despite rumors that have swept the internet, Welling was not considered for the part of Superman in the movie Superman Returns. Director Bryan Singer was searching for a fresh new face to play the role and had specifically stated in an interview on the movie's website that Welling had not been considered.
Welling married Jamie White on July 5, 2002, in Martha's Vineyard, after a three year relationship. He currently lives in Vancouver, where the CW series Smallville is filmed.
Episodes directed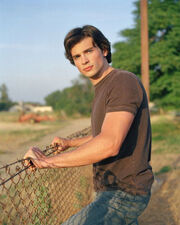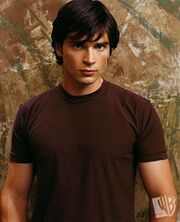 Since Season Five, Tom has directed one episode each season (except season 10 he directed 2 episodes). Some of the episodes he has directed include:
Season 5
Fragile (co-written by Todd Slavkin & Darren Swimmer) - Clark and Martha take in a little girl, Maddie, after her foster mother is brutally stabbed to death. However, it is discovered that Maddie has the power to shatter glass and she becomes the prime suspect. Meanwhile, Chloe asks both Lex and Lana about their budding relationship.
Season 6
Hydro (co-written by Brian Peterson & Kelly Souders) - After Lana confesses to Chloe she has reservations about marrying Lex due to her lingering feelings for Clark, the Daily Planet gossip columnist, Linda Lake runs a story detailing their exact conversation. Determined to prove she didn't give the story to Lake, Chloe investigates her fellow co-worker and discovers Lake has the ability to turn herself into water and uses it to secretly overhear conversations for her column. Meanwhile, Lois begins to suspect Oliver is the Green Arrow and enlists Clark's help to prove it.
Season 7
Apocalypse (co-written by Al Septien & Turi Meyer) - Clark discovers that Kara sent messages from Krypton in the past that indicate that Brainiac wants to kill baby Kal-El so Clark will not exist in the future. Clark is torn because he thinks the world would be better off if he had never arrived in Smallville so Jor-El arranges for Clark to see what life would have been like if he hadn't existed.
Season 8
Injustice (co-written by Al Septien & Turi Meyer) - Chloe returns and begs Clark to kill Davis, claiming she can no longer keep the beast under control. Tess has assembled a team of meteor freaks, including Plastique, to track down Davis so Clark can kill him. However, things get out of hand once Tess' team discovers she is double-crossing them.
Season 9
Absolute Justice, Part 2 (written by Geoff Johns) - Courtney pleads with Hawkman and Dr. Fate to help her catch the killer that is targeting their group, but they are reluctant to resume their duties as superheroes. Clark, John Jones, Green Arrow and Chloe team up to help the JSA stop Icicle before he murders another member of the group. Meanwhile, Lois receives a package from a mysterious agency called Checkmate, run by Amanda Waller.
Season 10
Patriot (written by John Chisholm) - In an effort to protect the rest of the team, Oliver decides to register for the Vigilante Registration Act to see what the government plans to do with the new law. As he suspected, it was a trap to lure superheroes to an undisclosed location where he is confined to a jail and subjected to a battery of brutal tests under the supervision of Gen. Slade Wilson. Aquaman and his new wife Mera team up with Clark to free Oliver. Lois is frustrated when Clark continues to push aside her offers to help the team and sets out to prove she can play with the big boys.
Booster (written by Geoff Johns) - After everything that happened with the VRA, Lois tells Clark it's best to make "Clark Kent" forgettable and awkward so people don't suspect he's The Blur. However, the two are stunned when a fame-hungry superhero from the future, Booster Gold, sweeps into town and begins making saves and posing for press ops, completely winning over the city of Metropolis. Booster begins his campaign to take The Blur's place as the "World's Greatest Superhero" and tries to charm Lois into writing a story about him, but she's not having his antics and begins her own campaign for The Blur. During one of Booster's saves, an alien weapon in the form of a scarab falls from a truck and fuses itself to a boy named Jaime Reyes, turning him into the Blue Beetle. Unfortunately, Jaime is unable to control the suit and Blue Beetle starts attacking Metropolis.
Notes
Quick Facts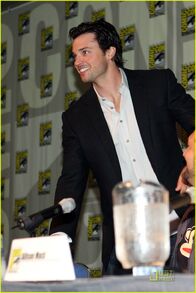 He has a pug named Cook.
His astrological sign is Taurus.
He is 6' 3'' (1.91 m), just an inch shorter than Clark Kent is in the DC Universe.
His wife's name is Jamie White Welling. But as of October 2013, there has been a report that Jamie Welling has filed for divorce.
He has two older sisters named Rebecca and Jamie, and a younger brother named Mark.
He knows kickboxing.
Trivia
Tom's favorite TV show is Seinfeld.
Tom's favorite movie is Mutiny on the Bounty.
Tom was in the music video "Picture Perfect" by Angela Via. He and Angela shared a kiss at the end of the music video.
Tom can do the voice of Gollum (Lord of the Rings), as well as a pretty accurate Keanu Reeves impression.
Tom modeled alongside Ashton Kutcher. The two are good friends.
Tom has modeled for Tommy Hilfiger, Abercrombie & Fitch, and Calvin Klein.
Tom and his wife Jamie White were married on July 5, 2002. They lived in Vancouver, near the set of Smallville until March 2011, when they moved to Los Angeles. As of November 2015, they are officially divorced.
During his time off, Tom enjoys reading, running, playing basketball, and spending time with his dogs.
Tom turned down the auditions for the role of Clark Kent on Smallville twice. Once he finally auditioned, they offered the part to him, and he immediately accepted. Christopher Reeve similarly did the same thing when he was offered the part of Clark Kent.
Tom has played three different named personalities of Clark Kent: Clark Kent, Kal (on Red Kryptonite), and Kal-El (while brainwashed by Jor-El) and he has also portrayed a paranoid Clark, under the influence of Silver Kryptonite (Splinter). Secondarily he has also played his own future self. (Homecoming)
Tom has portrayed two versions of Clark possessed by another being: a Clark possessed by Lionel Luthor (Transference), and a Clark possessed by teenager Dawn Stiles (Spirit). He has also portrayed Tina Greer in disguise (Visage).
Tom has also portrayed three entirely different characters on Smallville: a young Jor-El, Bizarro and Clark Luthor.
His (US) shoe size is 14
Tom appeared in every season of Smallville and is the only cast member to appear in every episode of the series. However, in the episode Gemini his lines of dialogue are restricted entirely to his portrayal of Bizarro.
By the end of Season 10, Tom Welling had played Clark Kent for the longest, continuous period of time (2001 to 2011) according to Guinness World Records.
Tom is also the only Superman portrayer not to be seen wearing the full suit.
Tom currently plays Lt. Marcus Pierce on Lucifer. In one scene, Lucifer asks Marcus Pierce about his weakness, "Everyone has a Kryptonite, lieutenant". referencing Superman.
Filmography
Year
Title
2005

Cheaper by the Dozen 2 as Charlie Baker
The Fog as Nick Castle

2004
Television Specials

Smallville Backstage Special
The Teen Choice Awards 2004

2003

Cheaper by the Dozen as Charlie Baker

2002
Television Specials

The 59th Annual Golden Globe Awards
The Teen Choice Awards 2002

2001
Television Series

Judging Amy as Rob Meltzer
Photo Gallery
→ see also: Category:Images of Tom Welling
→ see also: Category:Promotional Pics of Tom Welling
Pictures taken from MundoSmallville
External links