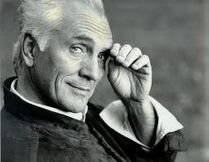 Terence Stamp played the voice of Jor-El on Smallville.
Notes
Terence Stamp is the third Superman alum with a role on Smallville; he portrayed General Zod in the first and second Superman movies with Christopher Reeve, who played Dr. Virgil Swann in Season Two's Rosetta and Season Three's Legacy. Others include Annette O'Toole, who played Martha Kent in Smallville and Lana Lang in Superman III; Margot Kidder, who played Lois Lane in the Superman movies, also had appearances on Smallville as Dr. Bridgette Crosby; and Marc McClure, who played Jimmy Olsen in the Donner film series and Supergirl (which starred Helen Slater, who played Lara-El in Season Seven's Lara and Blue, in the title role), and made an appearance as Dax-Ur in Persona.
In 2007, Terence Stamp participated in The Word of Promise, an audio-book adaptation of the New Testament. He provided the voice of God, very similar to the voice of Jor-El. Jim Caviezel, who reprises his role of Jesus from The Passion of the Christ, auditioned for the role of Superman in Superman Returns.
Community content is available under
CC-BY-SA
unless otherwise noted.