Jurassic World: Dominion Dominates Fandom Wikis - The Loop
Play Sound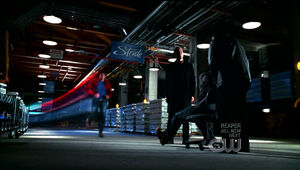 "Not that that matters, cause I'll be a thousand miles away before you can even blink."
— Bart Allen to Clark Kent. Run
Super-Speed is the power to react as well as run at velocities surpassing what is physically possible for a human. On a basic level, super-speed allows the user to move with such force that they appear as a blur of motion. At its height, it allows them to break the sound barrier.
Kryptonians
Kryptonian super speed manifests almost instantly after exposure to an environment under a yellow sun. Kryptonians can move any part of their body extremely fast, to the point where everything around them freezes. At a young age, Kryptonians don't emit aura pulsations, but will eventually start to emit aura pulsations. Clark can use his speed to run up buildings, as proven in Lexmas.
The Kryptonian machine computer program called Brainiac is capable of using super speed. Davis Bloome is also capable of this ability. 
Atlanteans
Atlanteans can swim at super speed, at some point becoming able to swim at speeds that greatly exceeds the sound barrier. Atlanteans can swim much faster than Kryptonians.
Martians
Martians can move at hyper-sonic speed, generating a trail of red that is left in their wake when they move around at super speed. Martian Manhunter was able to fly from space to Lionel's office and stop Clark from killing Lionel. It's unknown how fast adult martians can run, but it at least greatly exceeds the sound barrier.
Characters with Super Speed
Kryptonians
"That's the thing about Clark Kent: he's not always there when you want him... but he's always there when you need him."
Half-Kryptonian
Aliens
Metahumans
Meteor Infected
Temporarily Metahuman
Other
Technology
Quotes
Clark: Where exactly did you find the body?
Chloe: Just up the road about a quarter-mile. (Clark super speeds away) Well, I guess I'll meet you there.
---
(Clark runs away at super speed)
Chloe: Do you ever get used to that?
Martha: Not really.
---
Bart: None of that matters cause I'll be a thousand miles before you could even blink.
Clark: I don't know, I can blink pretty fast.
---
(Clark super speeds while on the phone with Lois)
Lois: What was that whooshing sound?
Clark: Nothing... I, uh, just had the truck window open.
In The Comics
In the comics, super speed, or heightened speed, is a common ability amongst speedsters and depending on the entity, the potential capacity of this ability will vary greatly. Superman can move and exercise at speeds that greatly exceeds that of the speed of light itself and currently, he is so fast that he won't even leave a streak behind him, unless he isn't using this ability to its fullest. He can also reverse the rotation of Earth to turn back the cordial of time by flying extremely fast around the Earth. The Flash can move extremely fast, to the point where he outclasses Superman in races most of the time, though sometimes, they break a tie with one another. He can also reset time with his speed. J'onn J'onzz can also move very fast and has hyper reflexes. Darkseid possess enhanced speed compared to humans, but compared to speedsters, he is slow, although he sometimes surprises Superman by quickly appearing behind him.
Notes
See also