SMALLVILLE: SEASON 11 COMIC
Guardian, Part 3
Series 
Season 11
Number 
3
Writer 
Bryan Q. Miller
Pencils 
Pere Perez
Cover 
Ryan Benjamin & Saleem Crawford (print)
Cat Staggs (digital)
Inks 
Pere Perez
Colors 
Chris Beckett
Lettering 
Saida Temofonte
Assistant Editors 
Sarah Litt
Editors 
Kwanza Johnson
Publication Date 
July 4, 2012
Navigation
Previous Story: Guardian, Part 2

Next Story: Guardian, Part 4
Smallville: Season 11 #3 is the third issue of the print edition of the DC Comics comic book series.[1] The issue collects chapters 7-9 of the Guardian story arc, originally released digitally.[2]
Contents
Story
Television Series Episode Guide
Summary
Oliver and Chloe are on a hunt in the heartland or are they the hunted? Lois is caught in the crossfire as Superman confronts Lex about last issue's disastrous climax as Henshaw's condition takes a turn for the worse.
Recap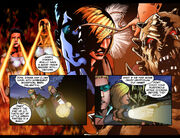 In
Smallville
,
Chloe and Oliver
are searching through the crash site for the missing ship, where
Oliver
lights a flare arrow to help them see. Oliver admits he wished they had brought back-up, considering their past experiences with aliens, specifically
Kryptonian survivors
, but
Chloe
dismisses his concerns. They then stumble upon the ship, which has a
Queen Industries
logo branded on the side, and then a trail of footprints.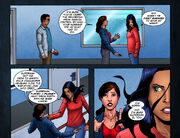 In
S.T.A.R. Labs
,
Lois
visits
Emil
, in order to check on
Commander Henshaw
, who is being watched over by his wife. Emil explains to Lois that Henshaw is not in a coma; he has lost all motor skills due to the radiation, but is fully aware. Lois attempts to comfort Mrs. Henshaw, but she angrily blames
Superman
for what happened, despite knowing Henshaw's decision. Lois apologizes for the incident, but Mrs. Henshaw dismisses her attempts and leaves.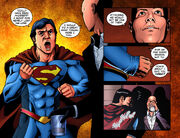 In
LexCorp Plaza
,
Lex
arrives in his penthouse office, as
Superman
angrily breaks his glass window by clapping. Superman accuses Lex of activating the Guardian Platform mid-flight, but Lex dismisses the claim, saying the accident could have been avoided had the military not forced the private sector's hand. Superman accuses him again, nearly attacking him, until three military helicopters show up, demanding that Superman step away from Lex. Lex claims that Superman's appearance at the Korolyov and Guardian incidents, as well as his apparent attack of LexCorp Plaza, Superman had given
Sam Lane
a reason to intervene. The military tells him he is under arrest, but Superman refuses as they ready their guns.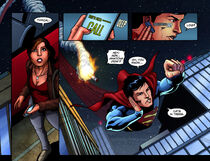 Outside of the Daily Planet, Lois angrily demands she be patched through to her father. When he answers she argues and ridicules his decision, but General Lane claims to just be following orders. She calls Clark and he asks her if Sam knows his secret, saying he implied it before, but Lois claims if he did, he probably would not have fired at him.

As they surround Superman, they begin firing, as Lois seeks cover under her convertible. The bullets deflect off of him and hit the tail rotor of one of the helicopters, which begins to fall. Superman saves Lois before the helicopter crashes onto her car, and explodes. The pilot of Sam's helicopter asks if he should radio back to the base that Superman has taken a hostage, but he refuses, stating Superman has just saved Lois.
Inside of LexCorp Plaza, Tess once again appears behind Lex, who has found the information on the Neurotoxin, and how it causes the patient to form a mental bond with whomever administered the Neurotoxin, and so they share one mind, with Tess as a secondary consciousness.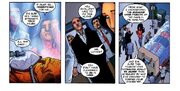 In S.T.A.R. Labs, Emil attempts to comfort Mrs. Henshaw as she mourns her husband's condition, when Lex walks in. Emil alerts him that he does not have clearance to enter, but Lex dismisses his protest.
He offers to help save Commander Henshaw, but says he requires one of Emil's H.E.D. drones.
Above Metropolis, Clark and Lois embrace after avoiding capture by the military.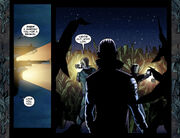 In Smallville, Chloe and Oliver follow the trail of footprints, which also have burn marks surrounding them. As they search, Oliver questions Chloe on whether or not she wants to leave Metropolis for Star City, as she seems reluctant. She admits she doesn't wish to, but knows that they need to in order to officially begin their adult life, saying it is different from the awe of Metropolis. Oliver disagrees, stating it has the second highest crime rate in the country behind Gotham, but Chloe admits she is fine with that. They find a second trail of prints as well as small drops of blood and the two ready their weapons, as someone watches them from behind.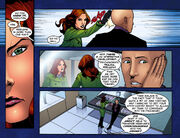 In a S.T.A.R. Labs restroom, Tess appears to Lex once again, where he admits he can sense her when she appears. He also reveals that he plans to repeat the procedure his team is conducting if it is successful, and even plans to try it on Tess' consciousness. She questions why Emil agreed to the procedure and he admits it took a bit of manipulation to convince him. He then ask Tess just how close her and Emil's relationship was and she smacks him, with Lex expressing his delight over finally having a way to remove her. Otis interrupts, informing Lex that the procedure is over. He then express his sorrow for her condition to the invisible Tess, much to Lex's annoyance.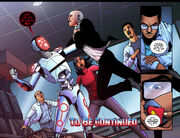 Emil asks Mrs. Henshaw to come into the operating room as her husband wants her, but is kicked out by Lex's security guards. Henshaw's robotic body goes online and his wife tries to comfort him as he begins to grieve his condition. Lex congratulates him on his second chance, but Hank angrily grabs him and lifts him into the air, asking why Lex did it. Emil quickly reaches for and activates his signal watch.
Title
Continuity
Oliver mentions that "Earth doesn't really have a good track record with visitors," referring to Brainiac, Doomsday, and even Zod's disciples in the Season Five premiere "Arrival" among significant others. All these examples are illustrated in the book.
Clark mentions the conversation he and Sam Lane had in Ambush.
Trivia
Each digital chapter of this issue had a distinct cover. While all three feature Clark, Lex and Tess, chapter 8 also features Oliver, and Chapter 9 has all four as well as Chloe on the cover.
Variant Covers
References
↑ Smallville Season 11 Comic #3 Solicitation & Cover Artwork KSiteTV.com
Community content is available under
CC-BY-SA
unless otherwise noted.