The Sandman Will Keep You Awake - The Loop
Play Sound
The Smallville Crows is the Smallville High School varsity football team, for which Whitney Fordman, Pete Ross and Clark Kent all have played. It is also the de facto local team for the town residents of Smallville.
The Crow's team uniform, just like Smallville High's school colors, consists of crimson red helmet and jersey (both with golden stripes) matched with golden yellow pants, or casually a crimson red letter jacket with yellow sleeves. Both its team logo and mascot are a flying black crow as with the team name.
Overview
The Smallville Crows had been led by the foul-tempered coach Walt Arnold for 25 years, who ran the team as "an institution", winning State Championships in 1979 (with Jonathan Kent as quarterback), possibly in 1989 right before the meteor shower, and in 2001 (with Whitney Fordman as quarterback). He also coached most of the school board members and trained multiple generations of the Ross family, and was revered by many local residents in Smallville like he "can walk on water", with even the school's stadium being named after him. His legacy stopped in 2001 after Principal James Kwan suspended him for orchestrating his players in group-cheating on the midterm math exams, and Arnold subsequently killed himself with fire by accident when his own metahuman pyrokinetic abilities got out of control.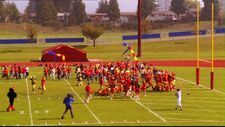 Coach Arnold's successor Wayne Quigley, who took over in 2002, initially had trouble winning games after star quarterback Whitney Fordman graduated to enlist in the United States Marine Corps. However in 2004, Coach Quigley's new assistant coach Jason Teague assigned rookie Clark Kent as the starting quarterback, after previous starter Danny Cormay was dropped for gross disobedience and impulsively assaulting Coach Teague in the locker room with a shotgun. The Crows then went undefeated 13-0 with Clark leading the offense, and won the State Championship in a clutch game against the finalist powerhouse Topeka Valley Huskies, with Clark again throwing a game-winning last-second Hail Mary touchdown despite the interference from a superpowered bookie.
Billionnaire Lex Luthor of LuthorCorp temporarily sponsored the team in 2004, after Clark Kent joined the team in his senior year.
Known Coaches
Known Players
Known Former Players
Known Cheerleaders
Mascot Performer
Gallery
See also
References