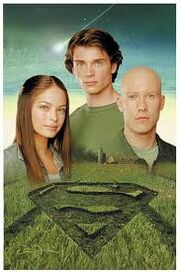 From 2003-2004, DC Comics published 11 issues of a comic to tie in with the show. A preceding "one shot" comic was released in October, 2002. Each issue of the comic series was bimonthly.
In addition to the comic stories, each issue contained cast interviews, episode summaries and info on merchandise (i.e. DVD Sets and the set of Young Adult and Adult Novels).
Issues
Reprints
Smallville Trade Paperback
In April 2004, a TPB entitled Smallville: Volume 1 was released, collecting contents from Smallville The Comic and Smallville #1-4.[1]
Season 3 DVD
Disc 6 of the set included digital reprints of Exploit and Captive.
See also
References
External links
Community content is available under
CC-BY-SA
unless otherwise noted.