Jurassic World: Dominion Dominates Fandom Wikis - The Loop
Play Sound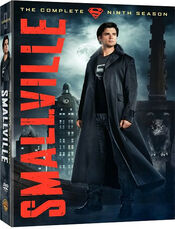 The Season 9 DVD contains all 21 episodes from the ninth season of Smallville with deleted scenes and commentary. The DVD was released on 7 September 2010 in the U.S. and 25 October 2010 in the U.K. The cover depicts Clark Kent in his black Blur outfit high above the skylines of Metropolis. It represents him further embracing his destiny as Earth's savior.
Publisher's Summary
Great planet, Earth is. So great that other survivors of Planet Krypton wouldn't mind making it home and taking control. But fellow Kryptonian Clark Kent has a warning for Zod and his followers who cross the line, especially if they seek to enlist Lois Lane in their schemes: I will destroy you all! Hearts grow fonder (Clark and Lois) and dangers grow stronger (Clark vs. warriors of Zod) in this 21-Episode Season 9 Collection. Plus, unexpected characters from DC Comics lore add exciting new layers to the adventures of the man who will become Superman. Among them: the shape-shifting Wonder Twins, magical Zatanna, and Justice Society of America's Doctor Fate, Hawkman and Stargirl. May justice prevail - and Earth survive!
Product Details
Genres: Action, Adventure, Drama, Sci-Fi, Thriller
Actors: Smallville
Format: Closed-captioned, Color, Dolby, Subtitled, Widescreen, NTSC
Language: English
Region: Region 1 (U.S. and Canada only. Read more about DVD formats.)
Aspect Ratio: 1.78:1
Number of discs: 6
Rating PG 14
Studio: Warner Home Video
DVD Release Date: September 7, 2010.
DVD Features
Kneel Before Zod Featurette - Since the Silver age, the House of EL has been plagued by the disreputable deeds of the Kryptonian villain, Zod. Now Smallville brings this infamous foe face-to-face with earth's greatest hero, Clark Kent. Over the course of the season, Smallville promises to show us the rise of Zod's venomous side, key betrayals with our beloved characters, and his rising from Major to General Zod. In this docu-featurette, we'll create an in-depth look at this dynamic criminal from Krypton, his origins in DC's silver age, and his various appearances in more recent film, animation, and live-action television.
Justice for All Featurette - In the early 1940s, DC Comics formed the first team of superheroes in comic book history, with the Justice Society of America (JSA), pushing some of DC's lesser known heroes to the forefront; Dr. Fate, Hawkman, Starman and Stargirl to name a few. Season nine of Smallville will see these characters in the "fantastical flesh" for the first time. In this script-to-screen featurette, we'll meet with Smallville Creatives as they bring one of comic books' iconic team of superheroes to television for the first time.
Cast/Creator Commentaries on episodes:
Deleted Scenes:
Episodes
Notes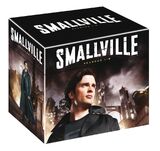 This is the first time since the Season 2 DVD to have Clark alone on the cover.
Clark is seen wearing his Blur attire with the House of El family crest on his chest.
The key locations featured prominently on front cover art are Clark's crow's nest and the Watchtower in Metropolis.
On the season 1-9 boxset the key locations featured are the Daily Planet and the Solar tower in Metropolis.
Smallville: The Complete Ninth Season was released on September 7, 2010.
Though the writers and producers consider Season 9 to have 22 episodes, the CW and Warner Home Video officially list the episode count at 21 episodes with Absolute Justice recognized as a single episode.[1][2]
Promotional Picture Gallery
See also
External links
References