Jurassic World: Dominion Dominates Fandom Wikis - The Loop
Play Sound
The Season 7 DVD of Smallville was released on September 9, 2008, for Region 1. It is now available for order on Amazon.com. The Season Seven DVD contains all 20 episodes from the seventh season of Smallville with deleted scenes and commentary. The cover depicts Clark Kent and Kara Kent within the Fortress of Solitude. It's a representation of their Kryptonian heritage.
Summary
There are two Clark Kents. One is the young man whose life in a tiny Kansas town sets him on destiny's path. The other is Bizarro who shares Clark's DNA but not his values. Only one of them can survive.
Superman's mythology grows deeper and more powerful in an event-packed season that includes the arrival of Clark's cousin Kara/Supergirl. Keep a low profile and master your powers, Clark says. Kara has other ideas. Plus: Lana Lang may prefer Bizarro to the real deal. Lois Lane makes a career leap. Chloe Sullivan finds that balancing a meteor power with a personal life isn't easy. And Lex Luthor's power - just had a new fixation - Kara. 
Product Details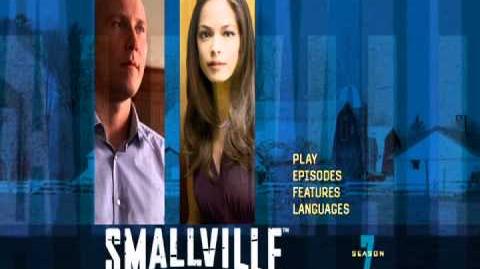 Number of Discs: 6
Number of Episodes: 20
Running Time: 827 minutes
Retail Price: US $59.98
Language: English
English (Dolby Digital 2.0 Stereo)
Subtitles & Closed Captions: English, French, Spanish
Dvd Features
The DVD has several special features:[1]
Release dates
Region 1 (September 9, 2008) the United States
Region 2 (October 13, 2008) the United Kingdom
Region 4 (March 4, 2009) Australia
Main Cast
Episodes
See also
References