Jurassic World: Dominion Dominates Fandom Wikis - The Loop
Play Sound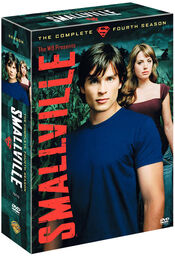 The Season 4 DVD contains all 22 episodes from the fourth season of Smallville with deleted scenes and commentary. The DVD was released on 13 September 2005 in the U.S. and 10 October 2005 in the U.K. The cover depicts Clark Kent with Lois Lane behind him, foreshadowing their famous relationship.
Summary
Clark Kent will have plenty of reasons to remember his senior year! The thrilling reinterpretation of the Superman legend evolves in Season 4, whose 22 episodes include the quest for 3 Kryptonian crystals... and Clark's bold attempt to keep those mysterious stones from destroying Earth. Clark also becomes a highly recruited football star. Lana gets a boyfriend. Lois Lane — smart, opinionated and entirely annoying to Clark — comes to Smallville. This season also shows how Chloe learns the scoop of the century. Lionel becomes a straight-up nice guy. Lex steps further from the light into darkness and a new calling awaits Clark - an awakening to a destiny that only he can accept and fulfill.
Product Details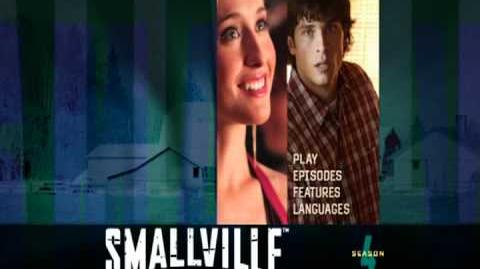 Genres: Action, Adventure, Drama, Sci-Fi, Thriller
Actors: Smallville
Format: Closed-captioned, Color, Dolby, Subtitled, Widescreen, NTSC
Language: English
Region: Region 1 (U.S. and Canada only. Read more about DVD formats.)
Aspect Ratio: 1.78:1
Number of discs: 6
Rating PG 14
Studio: Warner Home Video
DVD Release Date: September 13, 2005
DVD Features
Available Subtitles: English, Spanish, French
Available Audio Tracks: English (Dolby Digital 2.0 Surround)
22 episodes on six discs
Commentary by Erica Durance, Annette O'Toole, and executive producers Alfred Gough, Miles Millar, and Ken Horton on Crusade.
Commentary by John Glover, Alfred Gough, Miles Millar, and Ken Horton on Transference.
Commentary by Kristin Kreuk, Allison Mack, Erica Durance, and director Jeannot Szwarc on Spell.
Unaired scenes
Behind Closed Doors: inside the writers' room
Being Lois Lane: Noel Neill, Margot Kidder, Dana Delany, Erica Durance, and other portrayers of Lois share their thoughts.
Limited-edition bonus DVD while supplies last: an episode from season 1 of The Flash.
Commentary
Crusade
Here are highlights from the commentary on Crusade with Erica Durance, Annette O'Toole, executive producers Alfred Gough, Miles Millar and Ken Horton
Alfred and Miles wanted to put Lois Lane in the series earlier, but they felt that they had to wait until the right amount of time had passed until introducing the character.
The first scenes with Lois were the originally the climax of the first act of the episode, the episode originally started with the Lex stuff in the Egyptian caves but the producers wanted to change it to make it more about Lois's story.
There was a lot of discussion about the where the 'leaf' would be to cover up Tom's backside, the shot was still being discussed by September 20th [which was the Monday in which they had to deliver the show to the WB.]
Erica's first scene was the scene where Lois tries to drop off Clark at the hospital. It was also her audition scene for the character.
Jensen Ackles was the other choice for Clark if Tom did not want the role.
Transference
Here are highlights from the commentary on Transference with John Glover, Alfred Gough, Miles Millar, and executive producer Ken Horton.
John Glover was present more times than he was usually needed on set during the episode, appearing for all 10 days of the filming.
Before the scene is shot with Tom Welling as Lionel playing Clark, the scene will be rehearsed with John Glover to get the right feel of Lionel talking to the characters as Clark.
As with being on the filming for all 10 days, John was also sometimes behind the camera giving notes on how to produce a performance as Lionel would in the scene.
John noted that in the second fight scene he has as Clark playing Lionel, he started to bleed real blood on the stairs. One day, he went back when filming a different episode to see that the blood was still on the stairs from the day they shot the fight scene.
Spell
Here are highlights from the commentary on Spell with Kristin Kreuk, Allison Mack, Erica Durance, and director Jeannot Szwarc.
It was Jeannot Szwarc's idea to show the witches in a cart in the opening scene. The scene was originally going to take place in a castle.
Costume designer Caroline Cranstoun mentioned to Allison Mack that the same group of people are used as extras for various scenes. They all knew each other when they came for the wardrobe fitting.
A man came on to set and taught Kristin, Erica, and Allison all about Latin and the various styles of Latin. They decided to use the Italian style on the show. In addition, the man taught them about witchcraft, how to cast spells, and how to hold their hands when doing so.
The scene with Clark and Lois bickering about Chloe's birthday party was originally going to be shot outside, but it had to be pulled in the barn due to rain. That scene was shot the same day as the witch scene.
Kristin accidentally hurt herself when she pulled out a few of her own hairs.
Apparently, Clark isn't the only one who could use a "woman's touch" with gift-wrapping: Allison's brother used to pay her to wrap Christmas presents.
The musician who played the piano while Lana cast a spell on Lex studied for seven years at the Moscow Conservatory.
Tom Welling is always wandering around the set going, "Clark's an IDIOT!" Clark is one of the few people who wouldn't immediately take advantage of a situation where Lana is suddenly into him. The cast remarks that Tom is very good at playing awkward and blank.
The purple potion Lana created was actually grape Gatorade, which was sickening to the cast.
It is very awkward to film dancing scenes since the music is always turned off for the dialogue, resulting in everybody dancing to nothing and having a different rhythm. Erica Durance was very concerned abut her dancing. Contrary to Clark, Tom Welling is actually a great dancer in real life. During that scene, he was wearing his socks and dress shoes along with his boxers.
When Clark was shooting heat vision at various objects Chloe threw at him, Tom was just staring at nothing while filming the scene. It was also Tom's idea to have Clark ask for Chloe's help, and then have Allison's witch pretend to show emotion for Clark. Later in that scene, Allison kept tripping over Tom's legs when she had to walk backwards.
John Litvack, one of the producers in LA, has a picture of Kristin, Allison, and Erica dressed as witches hanging up in his office.
According to Jeannot Szwarc, the Kawatche Caves set is dusty and hard to light. Allison, Erica, and Kristin found it hard to walk in the mulch while wearing their high-heeled boots.
On the first take when Kristin grabbed the stone, she screamed and collapsed.
Erica comments that her favorite part of the scene where Lana, Chloe, and Lois are restored to normal is the fact that they are all passed out on the floor of the caves. Clark only helps Lana get up, and Chloe and Lois have to get up themselves.
In the very first draft of the script, Isobel visibly stayed in Lana. When Lana left, you see a "thing" in her eyes, showing that Isobel was still there. This scene was never shot because the crew and writers would feel trapped by it.
Kristin Kreuk was sick during the filming of this episode. At the start of filming, she lost her voice. In her last scene with Tom, her voice is slightly crackly.
Episodes
See also