Jurassic World: Dominion Dominates Fandom Wikis - The Loop
Play Sound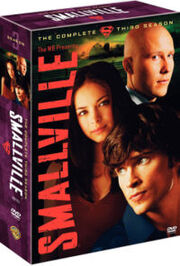 The Season 3 DVD contains all 22 episodes from Season Three of Smallville with deleted scenes and commentary. The DVD was released on 16 October 2004 in the U.S. and 18 April 2005 in the U.K. The cover depicts Clark Kent, Lana Lang and Lex Luthor. It highlights how Clark's secret affects his relationship with Lex and Lana.
Summary
Everyone has a future. Clark Kent has a destiny - if he's willing to accept and able to master all the awesome powers and responsibilities that come with it. The fascinating reinterpretation of Superman mythology and its classic characters continues in an event-packed 22-episode Season 3 that includes Clark's embracing of his dark side... and the devil's bargain Jonathan makes with Jor-El to rescue his son. Other highlights: Perry White and villainous Morgan Edge debut in the series. Clark hones a sensational new power. Chloe lets slip an intriguing reference to someone named Lois Lane. And the secret to Clark's true identity burdens Pete, obsesses Lex and drives a wedge between Lana and Clark. The challenges of today shape tomorrow as never before in Smallville.
Product Details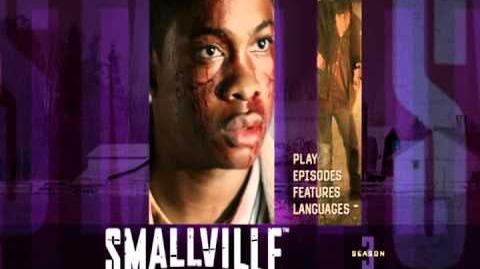 Genres: Action, Adventure, Drama, Sci-Fi, Thriller
Format: Box set, Closed-captioned, Color, Subtitled, Widescreen, NTSC
Language: English
Region: Region 1
Number of discs: 6
Rating: Not Rated
Studio: Warner Home Video
DVD Release Date: November 16, 2004
Run Time: 950 minutes
DVD Features
Available Audio Tracks: English (Dolby Digital 2.0 Stereo)
Audio commentary on three episodes by the show's producers Alfred Gough and Miles Millar and cast members Michael Rosenbaum, Allison Mack and John Glover.
All 22 episodes from the 2003-04 season
Producing Smallville: The Heroes Behind The Camera - a behind-the-scenes featurette
The Chloe Chronicles: Volume II - Webisodes from season 3
Unaired scenes with optional commentary
Gag reel
Easter Egg - cast member Michael Rosenbaum interviews one of the crew as they role play a DVD executive interview
DVD-ROM capabilities with link to Smallville website
Commentary
Exile
Here are some highlights from the commentary on Exile by with Al Gough, Miles Millar, Greg Beeman, Ken Horton and Michael Rosenbaum.
The opening scene where Clark buys a sports car was added to the episode just a week before it aired. The original opening scene was the bank robbery, but it was reworked because Clark is wearing a mask through most of that sequence.
Club Atlantis looks a lot like Club Zero, but it is not the same set. Club Atlantis was shot inside a real club.

Michael Rosenbaum (Lex Luthor) complains that he looks greasy in the opening credits. The image is from Heat. Everyone was sweaty all the time in that episode. He also mentions that Krista Allen is a great kisser: "lips like briefcase handles."
The crew hates working in the set for the caves. The set is very small, about 100 feet long by 20 feet wide.

Michael Rosenbaum was nervous about his scenes on the island and spent much of the summer at the gym. The island scenes were shot in the middle of a pine tree rain forest in British Columbia; they kept the trees out of focus so they would look like tropical varieties. Michael eats both real and fake bugs and really drank the stagnant water. The first cut of this episode included Lex hitting Louis with the machete ten times (the final version includes only four blows.)

There was once a plan to kill the character of Helen Bryce at the end of Season 2. Emmanuelle Vaugier played a practical joke on Michael Rosembaum by putting left over chili in the toilet in his trailer.
On one take of the scene where Clark pushes Chloe out of his apartment, Tom and Allison trip and fall on top of each other.
The library set at the mansion has been reworked to include a larger balcony and a more open staircase.

Kristin Kreuk does not use a double on the motorcycle with Tom Welling. She does watch Smallville every week with her family.
Michael Rosenbaum mentions that it takes about an hour and fifteen minutes to shave his head everyday. The first year it took over two hours, but Natalie Costco is getting better and better at it.
Michael Rosenbaum mentions that unlike other casting experiences, he remains attracted to Kristin Kreuk even after three years of working together. One of the producers describes her as preternaturally (or supernaturally) beautiful.
Smallville has a dictum from the feature division not to show Jor-El in person; only his voice can be heard in the series.
It was Tom Welling's idea to play Clark as unimpressed when Jonathan arrives with Kryptonian powers.
Truth
Here are some highlights from the commentary on Truth by with Director James Marshall and cast members Allison Mack and John Glover.
The opening scene was shot on two different days. It isn't raining behind Chloe but it is raining behind her costar.
The exterior of LuthorCorp is filmed at a sewage plant (appropriate for a fertilizer plant).
The interior of the secret lab was built in a hallway in the sewage plant.
The dog that scares Chloe in the lab was supposed to be a monkey, but Bob Hargrove doesn't like it when James Marshall works with animals. He falls behind schedule, so he replaced the monkey with a dog.

Allison Mack did her own stuntwork when she ran down the hallway and dove under the door.
The Smallville High hallway is part of a real school in Vancouver which has been specially dressed. They shoot during the day while students are in class. When the bell rings and the students come out of the classrooms, they stop shooting and wait five minutes for all the students to go back in their classrooms. Several students have gotten jobs on the crew and in the cast as extras.
Allison Mack nicknames Michael "Swagger" likely due to his walking pose.
Lionel Luthor has never been to the Talon.
Allison Mack's first theatrical job was Police Academy 6. She played a little girl on a bus that hijacked. She had one line. When she gets off the bus she looks up at the guy and says: "You're much better than the regular driver."

Allison's first kiss was on camera. Her costars name was JoJo Adams. They were thirteen years old. It was his first kiss too. He bought her a gold dolphin necklace. The director closed the set.
John Glover's first kiss on camera was on the set of a 1960s remake of You Are There. He played a pony express rider who broke a record.
They had 12 takes on the scene in which Clark confronts Chloe about her new ability.
Michael Rosenbaum and Tom Welling practiced the scene in which Lex helps Clark tie his bow tie for the spring formal over and over and over again. They work very well together. Michael tends to bring a sense of play to the set while Tom tends to be very serious.

Kristen Kreuk is one of Allison Mack's closest friends. John Glover, Allison Mack and Kristin Kreuk went to see Secretary together. John Glover was embarrassed to see the actress being spanked in front of Kristin even though she is a very accepting, non-judgmental and open person; she doesn't put off that vibe, and she always has a book.

The idea for Pete to kiss Chloe was thrown in very late in the development of the episode. Tom kept laughing during the scene, so they had to shoot it about twenty times.
The final scene in which Chloe apologizes to Clark had to be rewritten and re-shot twice because first it played very harsh and then it played very sappy. One version of the script had Clark not accept Chloe's apology at all.
Allison Mack refers to the scenes in which Chloe and the gang are at the Torch, figuring it out, typing on the computer, writing something down, etc. as Scooby-Doo scenes because they always end with sending different characters to check out different leads the same way the Scooby-Doo characters would all load up in the Mystery Machine and track down their clues.
Greg Beeman refers to the eyebrow-to-lower-lip close-ups as "slamma-jamma close-ups".
Allison's stunt double, Laura Lee, helps her out in the car scenes; although Allison is actually in the car dangling over the bridge for some shots. They had three or four different Thunderbirds for the shots they needed, but they wrecked all the cars during production.
Neither Allison nor John had actually seen this episode before watching it for the commentary. John commented that he really ought to start watching the show. His partner Adam Kurtzman watches the show.
Allison comments that the two leading men: Tom Welling and Michael Rosenbaum have scars on their chins, and four main actors have green eyes: Tom, Kristin, Michael and Allison. Sam has brown eyes.
Memoria
Here are some highlights from the commentary on Memoria by with Producers Al Gough Miles Millar, Greg Beeman, Ken Horton and actor Michael Rosenbaum.
Wayne Dalglish really shaved his head to play the young Lex Luthor. He is a weapons expert and karate champion. He couldn't work as many hours as they needed, so a photo double appears in the scene in which Lex runs down a hallway. He shaved his head, too.
The rain in the opening scene was not scripted.
The exterior of Summerholt Institute is shot at an empty building owned by Sierra Wireless. They do all their business in an identical building across the street. Since one building is empty, they let Smallville film there.
Martin Cummings (who plays Dr. Garner) originally auditioned for the part of Lex Luthor.
The lab with the memory tank was built in a building used to wash train cars. The green liquid in the tank stained the actors' skin. They used two Clark doubles and a Lex double so that Tom Welling and Michael Rosenbaum would not need to spend so much time in the water.

A wig was made for John Glover so he could play Lionel Luthor in the past.
Michael Rosenbaum and John Glover do not rehearse the scenes together. They have found that they can keep their performances fresher if they don't do their scenes together before they do them on camera.
An actual one-month-old baby plays the part of Julian. The set that serves as Julian's nursery was built under the balcony at Excelsior Academy. The wallpaper was designed specifically for the episode.
The crew shoots about 160 days per year.
John Schneider is not in this episode because he was off prepping for Talisman, which he directed, but they wanted to emphasize the relationships between mothers and sons in this episode anyway, so it all worked out well. Neither Pete nor Chloe appear in this episode either.
There was a subplot with Lana and Chloe and the FBI agent that was cut from this episode and put into another episode because it was fifteen minutes too long.
Most TV episodes are shot in seven or eight days. Smallville always schedules ten, but this episode required eleven.

The producers had difficulty getting permission to show a scene of Krypton. The shot of Jor-El and Lara's hands comes from a Jeph Loeb comic.
The baby who plays young Kal-El had red hair. The photographs had black hair, so they had to dye his hair.
Tom Welling and his stunt double portray the seizures without any visual effects except for the texture of the water. There are also tiny depth charges in the tank for effect.
The set of Lionel's office at LuthorCorp was built from pieces of other sets for a few brief scenes in Insurgence. There was no initial plan to have it serve as a recurring set. The set's floors give them a hard time. They have to constantly wax them, gloss them, and repaint them in order to keep them reflective.
Episodes
See also