Jurassic World: Dominion Dominates Fandom Wikis - The Loop
Play Sound
The following is a list of commercial music featured in Smallville's second season.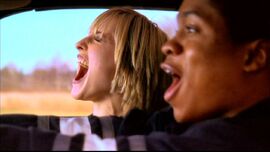 "Time And Time Again" - Stretch Princess
"In My Place" - Coldplay
"My Friends Over You" - New Found Glory
"Hot In Herre" - Nelly
"A Little Less Conversation" - JXL vs Elvis
"Truth Or Dare" - N.E.R.D. featuring Kelis
"Tomorrow" - Avril Lavigne
"Southbound Train" - Travis Tritt
"Ordinary" - Greg Jones
"Goodbye" - Stephanie Simon
"Leading With My Heart" - Alice Peacock
"Unexpected" - Sprung Monkey
"Break Off Your Wings - Bosshouse
"American Made" - Sprung Monkey
"In California - Bosshouse
"Breakable" - Fisher
"It's Time To Party" - Andrew W.K.
"Tattoos" - Jackpot
"Breathe In" - Frou Frou
"Stop Crying Your Heart Out" - Oasis
"Don't Ask Me" - OK Go
"Underneath It All" - No Doubt
"Nocturne In C Minor" - Chopin
"Crazy Richie" - Cactus Grove
"Love Song" - Sheila Nicholls
"Boom, Boom, Boom" - The Outhere Brothers
"Be Aggressive" - The Jockjam
"I Don't Know" - Tom Racer
"All My Life" - Foo Fighters
"Mickey" - B*Witched
"U Girl" - Sophie Agapios
"You Ugly" - The Jockjam
"Can I See You" - Buva
"I Feel Fine" - Riddlin' Kids
"Ivanka" - Imperial Teen
"Somewhere Out There" - Our Lady Peace
"Blame It On Me" by Bosshouse
"Otherwise" - Morcheeba
"17 Years Down" - Wonderful Johnson
"Put It Off" - Pulse Ultra
"Yesterday (Demo Version)" - Chris Heifner
"Start Again" - Sander Selover & Jeremy Kay
"Un Bel Di Vedremo (Madame Butterfly)" - Renata Tebaldi
"Inside Out (unplugged)" - Von Ray
"News Makers" - Dave Hewson.
"Angels Or Devils (Live From The Lounge version)" - Dishwalla
"In A Young Man's Mind" - Mooney Suzuki
"Uneven Odds" - Premonition
"I Ain't Waiting Here For You" - Bosshouse
"I Want This Perfect" - Son Of Adam
"I Wish I Cared" - A-Ha
"Settle Hills" - Dem Hills
"Outtathaway" - The Vines
"Don't Know Why" - Norah Jones
"The Game of Love" - Santana & Michelle Branch
"Psycho Ballerina" - Jackpot
"Little Bit Strange" - Walkabout
"American Rock And Roll" - Bumblefoot
"The Anthem" - Good Charlotte
"Days Go By (guitar version)" - Dirty Vegas
"Love" - Rosey.
"Feel Like A Man" - Susan Barth.
"Mad World" - Michael Andrews ft. Gary Jules
"Invisible Man" - Theory Of A Deadman
"Bittersweetheart" - Ed Harcourt
"Tomorrow" - SR-71
"La Wally (Ebben Ne Andro Lontana) - Alfredo Catalani.
"The Tequila Don't Kill Her" - Tim Buppert and The Nashville Six
"Never Gonna Come Back Down" - BT
"Somewhere" - Stephen Phillips
"Integrity" - Amy Drum
"Just Wanna Be Loved" - AM Radio
"Forever Yours" - Bosshouse
"Bread and Water" - Sheila Nicholls
"Don't Dream It's Over" - Sixpence None The Richer
"China" - Mystica
"Don't Tempt Me" - The Contes
"Burn Baby Burn" - Ash
"Home Sweet Alabama" - Lizzie
"Gentle Healing" - Sounds From The Ground
"Like a Dream" - Morphic Field
"Shooting Star" - Darran Falcone
"When It's All Over" - Janelle Sadler
"Fight Test" - Flaming Lips
"Not That Simple" - Jamestown
"Wave Goodbye" - Steadman
"Leaving Town Alive" - Pancho's Lament
"The Scientist" - Coldplay
"Nuclear" - Ryan Adams
"Satellite" - Kid Lightning
"Superman Theme"- John Williams
"Diamonds and Guns" - Transplants
"Wartime" - Stephanie Simon
"Phantasmagoria In Two" - Neil Halstead
"Kiss The Moon" - Hathaway
"The Other Side" - David Gray
"Princess" - Matt Nathanson
"Let Me Be the One" - Sammi Morelli
"Don't Forget Me" - Red Hot Chili Peppers
"Boom" - Jan Cyrka
"Becoming" - Adam Tenenbaum
"Shakedown!" - The Start
"(Don't Fear the) Reaper" - Gus
"No Room To Bleed" - Ben Lee
"Swing, Swing" - The All-American Rejects
"Anybody Listening" - Marty Irwin and Peter Northcote
"Safe Enough To Wake Up" - The Ben Taylor Band
"The World Outside" - Paloalto
"No Blue Sky" - The Thorns
"Gone Away" - Stretch Nickel
"Chariot" - Gavin Degraw
"I'm With You" - Avril Lavigne
"Everything To Me" - Elza
"Telling You Now" - Jessy Moss
"Signs of Love" - Moby
"Wastin' My Time" - Boomkat
"In This Life" - Chantal Kreviazuk
"Take Me Away (acoustic)" - Lifehouse
"Strange and Beautiful (I'll Put a Spell on You)" - Aqualung
"Weapon" - Matthew Good Band
"Jesu, Joy Of Man's Desiring" - Bach
"High On Sunshine" - Kelly Brock
"Bridal Chorus (Slow Version)" - Wagner
Notes
Some songs from the first and second seasons were officially released on the Talon Mix. It was one of only two soundtracks released for the show to date, the other being the Metropolis Mix.
Avril Lavigne's music was featured twice this season: "Tomorrow" in Heat, and "I'm With You", in Accelerate. Coincidentally, both episodes prominently featured superpowers: Heat focused on heat vision and Accelerate focused on super speed.
Often, the final track in an episode especially reflects the emotion in the scene, and the relationship the characters in that scene share. In several season 2 episodes, the episode ends with a scene involving Clark and Lana, and the lyrics in the song playing during their conversation usually involve distant lovers, and/or people who care for each other more than they let on.
See also