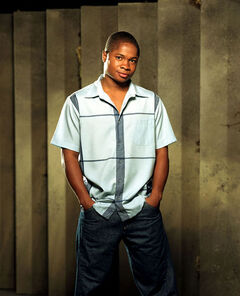 Sam Jones III played Pete Ross during the first three seasons of Smallville. Sam left the show with the episode Forsaken, returning nearly four years later in Season Seven episode Hero.
Sam Jones III was born on April 29, 1983 in Boston, Massachusetts. He then spent a summer with a friend in Los Angeles and decided to pursue a career in acting. Soon after he graduated high school, Sam relocated and acted until his imprisonment. He also once appeared with Allison Mack (Chloe Sullivan) in an episode of The Nightmare Room on the Kids' WB!
Career
Having been in Hollywood only two years, Sam Jones III made quite a name for himself. He completed leading roles in two upcoming feature films, Zigzag and Snipes, as well as having guest-starred in several television series. His role as Clark Kent's best friend Pete in the action-adventure drama Smallville marks his series-starring debut.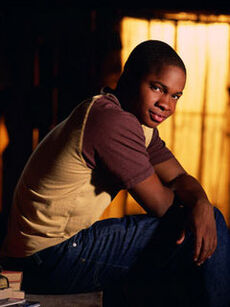 Growing up in Boston, Massachusetts, Jones acted in local commercials. After spending a summer vacation with a friend living in Los Angeles, he caught the showbiz bug and decided to pursue a career in acting. Soon after he graduated from high school, Jones moved to Hollywood to follow his dream. His first job was a memorable guest-starring role on NYPD Blue in which he portrayed a troubled teen who stole a gun and hid it in his daughter's crib. From there, his career began to grow. His credits include an emotionally charged recurring role on CSI: Crime Scene Investigation in which he played a teen who accidentally killed a girl and then watched as his grandfather attempted to take the blame. He also guest-starred on Judging Amy as a sexually abused teen who gets mixed up in a drive-by shooting. When he is not working, Jones spends his time on the basketball court.
Reason for Departure
Behind the scenes, he demanded more story arcs and better material from the producers, who maintain that he did not want to continue on the show and wanted more money. Sam's final regular appearance on the show was Forsaken, in which Pete left Smallville after getting attacked by an FBI agent who was working for Lionel Luthor. Regardless, with Pete leaving Smallville, this proved to Clark that most and many should not know his secret and only reinforced his secretive behavior towards his friends and loves including Lana.[citation needed]
In 2008, Pete returned to Smallville in Hero as a metahuman who could stretch his limbs while chewing kryptonite chewing gum, which was a blatant advertising scheme that was more about trying to sell the gum Stride than anything else. It is generally regarded as one of the worst Smallville episodes ever made.
Quick Facts
He attended the 2003 Comic-Con in San Diego, California with co-star Allison Mack.
His astrological sign is Taurus.
He is 5' 8".
His father is Sam Jones II, basketball player for the Boston Celtics.
An interview with Sam can be found in Issue 2 of Smallville.
Filmography
Home of the Brave (2006) .... Billy Marsh
ER .... Chaz Pratt (16 episodes, 2005-2009)
For One Night (2006) (TV) .... Brandon Williams
7th Heaven .... Alex (1 episode, 2006)
Smallville .... Pete Ross (60 episodes, 2001-2004 and 2008)
ZigZag (2002) .... ZigZag
Snipes (2001) .... Erik
Pacific Blue .... Ricky Davis (1 episode, 2000)
Judging Amy .... Robert Chetwind (1 episode, 1999)
NYPD Blue .... Jerome Banks
Legal Woes
On October 21, 2009, DEA agents arrested him as part of a conspiracy to deal more than 10,000 pills of oxycodone.[1] In December 2010, Jones pleaded guilty to supplying the oxycodone. He was sentenced to 366 days in jail, in addition to three years supervised release in June 2011. [2] [3]
External links