Robert Queen was a member of Veritas, a group of powerful people who came together to discuss the Traveler. He was also the founder and CEO of Queen Industries, and the father of Oliver Queen and the husband of Laura Queen.
Early life
Robert Queen was one of the closest members of the group along with Dr. Virgil Swann and had one of the Veritas keys. He opposed Lionel Luthor's plan to control the Traveler.
Oliver Queen Chronicles
Robert Queen doted on his only son and was the first to present him with a bow and arrow, which Oliver was initially uninterested in. Robert and Laura boarded a plane to meet an influential diplomat, but their plane was sabotaged by Lionel Luthor and crashed, killing the couple on October 14, 1989.
Almost ten years later, his son Oliver was stranded on a remote island after his yacht crew mutinied and left him to die. Curiously, Oliver learned that the island was the same location of his parents' plane crash. He discovered their remains and recovered from the site his parents wedding rings and a note his mother had written to him before the crash.
Season Seven
Lionel had the key recovered after it crashed. (Veritas)
In the Comics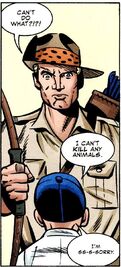 Robert Queen is a millionaire industrialist. Unlike the TV series, Robert has nothing to do in Superman's origin. In fact, his wife's name is instead of Laura, it's Moira. His middle name is Henry. And instead of him and his wife being dead in a plane crash, they in fact died during a safari together in Africa. They married while Robert was a naval officer in the pacific during World War II. He would go on to become the founder and C.E.O. of Queen Industries, which built a great deal of Star City. At an early age, he bought his son a bow and arrow for Christmas, mildly traumatizing young Oliver when he accidentally killed a rabbit. Years later, the family all went together in a safari together in Africa alongside Congo Bill as their guide, but Oliver refused to hunt any animals. His father encourage him to help as they were curbing the population, and not to be so scared all the time, but he relented and allowed Oliver to sit at their campsite. Suddenly, lions attacked the group and killed Robert and Moira, leaving only Oliver and Congo Bill. Oliver was able to pick his bow in self-defense to fight back, but his unwillingness and hesitation cost his parents their lives. To this day, he still blames himself for their deaths. It is noted that Robert Queen is descended from Sir Robert Queen the Earle of Dornee, rumored to be a descendant of Robin Hood himself.
Appearances
Other faces of Robert Queen
See also
Community content is available under
CC-BY-SA
unless otherwise noted.