Jurassic World: Dominion Dominates Fandom Wikis - The Loop
Play Sound

This article is a stub. You can help the Smallville Wiki by expanding it.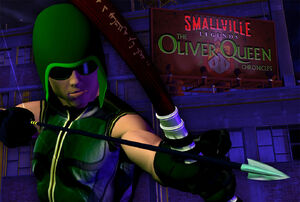 The Oliver Queen Chronicles were short five minute mobisodes about Oliver Queen's early life, broadcast along with several episodes of Season Six of Smallville.
Summary
Oliver Queen's parents are murdered. Years later Oliver is stranded on a deserted island where natives teach him the skill of archery. When Oliver's training is done, he becomes the Green Arrow.
Chronicle One: Broken Arrow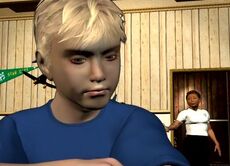 Oliver Queen is disappointed about not being able to go on a trip with his parents (who want him to be able to continue with his education uninterrupted). His father gives him a toy bow and arrow, which he responds to by breaking an arrow.
While Oliver is playing with a Warrior Angel action figure, Robert Queen is in the next room discussing with Bridgette Crosby about how they can't trust Lionel Luthor. Bridgette notes his concern and will relay it to Dr. Swann. Laura Queen spots Oliver eavesdropping and lectures him about it.
Oliver refuses to talk to her too. Laura notes that missing classes will put him behind Geoffrey and Alden. He then responds by stating that he wants new parents. Later, Oliver sees his parents boarding their flight, with no one noticing a man attaching a bomb to the plane.
Cast: Oliver Queen, Robert Queen, Laura Queen, Bridgette Crosby
Chronicle Two
Cast: Oliver Queen, Robert Queen, Laura Queen, Lex Luthor (archive footage from Pilot), Lionel Luthor (archive footage from Pilot)
Chronicle Three
Chronicle Four
Chronicle Five
Chronicles Six
Cast
Chronicle Titles
Chronicle Title 1: In this mobisode, Oliver breaks an arrow given to him by his father.
Notes
The Oliver Queen Chronicles originally aired from January 18 to February 22, 2007 via Sprint cellphones, then online on February 23, 2007 via the CW website.
The Oliver Queen Chronicles were released on the Season 6 DVD on September 2007.
Due to the flashback scenes in the Season Eight episode "Toxic", the events of Chronicles Four through Six have been rendered non-canon, though at least the first half of this story can still be looked at as a valid prequel to Oliver being stranded.
Quotes
Robert Queen: I just can't trust him anymore.
Bridgette Crosby: We were beginning to sense that.
Robert Queen: The seeds of fascism were watered by altruism, Bridgette. I fear he's pushing us down a similar path.
Bridgette Crosby: I'll make sure Virgil knows where you stand.
Robert Queen: Swann is lucky to have you. We all are.
Bridgette Crosby: The feeling is mutual. You are a critical part of this endeavor.
Chronicle One: Broken Arrow
External links