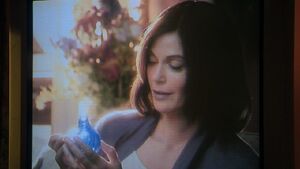 Old Blue was blue crystal bird that Ella Lane gave to her daughter, Lois Lane.
Early History
Sam Lane bought a Old Blue for Ella the day they found out Ella was pregnant with Lois. They were stationed in Russia, where according to Sam the blue crystal bird is considered a symbol of hope.
Season Ten
Lois watched a tape that her mother, Ella Lane, had left her when she had cancer (stationed at the hospital). In the tape, her mother explained that Old Blue was given to her when she was pregnant with her, Lois. It was a symbol of hope. (Abandoned)
Appearances
Quotes
---
Ella Lane: (Ella speaks through a videotape) Hope I'm doing this right. (breathes deeply) Lois... (slaps leg) my little girl. I've asked that you girls not be brought to visit me at the hospital. I know you don't like being told what to do. But I want you to have happy memories of me. The Colonel is convinced I'll pull through. He packed a bag with my favorite nightgown and sweater. (chuckles) I didn't know your father noticed those things. He even managed to slip in "Blue."; Your father got this for me the day we found out I was pregnant with you. We were stationed in Russia, and there this is considered a symbol of hope. He's going to do a wonderful job raising you. But sometimes...girls need their mother. So, as hard as these tapes are to make...they're for the days that I want to be there...and won't be. Play the tapes. Think of me...because...losing a parent, it can create a hole in a person's heart. Someday you're going to meet someone special. Knowing you, I'm guessing...tall, dark, and handsome. And you can't commit to that person fully if you think there's a love that your missing from some old memory...like me. You can't let someone leaving you stop your future with someone else. (chuckles) You know, the thing about being a parent is...it doesn't end. Not with age. Not with death. I will always be your mother, Lois. And I will always love you. (tape ends)
Community content is available under
CC-BY-SA
unless otherwise noted.