Jurassic World: Dominion Dominates Fandom Wikis - The Loop
Play Sound
Eleanor "Nell" Potter is the aunt of Lana Lang.
Physical Appearance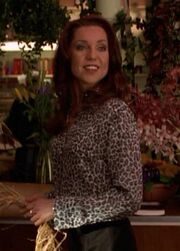 Nell is an attractive middle-aged woman. She has dark-brown hair, brown eyes, as well as often wears dark clothing.
Personality
Nell Potter was an independent woman who seemed content with her flower shop.[1] After Lana Lang was left orphaned by the 1989 meteor shower, Nell took in her niece and cared for her as her own daughter.
She also had a good relationship with Jonathan Kent, whom she had dated during high school.
Nell felt it to be her responsibility to keep the good image that Lana had of her late parents and even supported Lana's involvement with cheerleading.
As one of Lana Lang's few living relatives, Nell did all she could to help her niece become the woman that she is. Lana knew that she could always count on her aunt's support and counsel.
Early life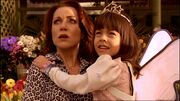 Nell was the sister of Laura Lang. She was good friends with Jonathan and Martha Kent, as well as once dated Jonathan in high school. She owned the flower shop attached to the Talon Theater, which was the place where Lana's parents first met.
After Lana's parents were killed, Nell adopted Lana.
Season One
Nell suspected but didn't tell Lana that Henry Small was actually Lana's biological father. Nell sold the Talon building to Lex Luthor, then helped Lana manage the Talon after Lana proposed to turn it into a coffee shop.
Season Two
Nell got married to Dean Winters, an insurance adjuster she met after the 2002 tornadoes, as well as moved with him to Metropolis. When Lana didn't want to leave Smallville until she finished school, Nell allowed Lana to live with the Sullivans.
Season Five
Lana mentions to Clark how she and Nell would decorate a plastic tree rather than a real Christmas Tree.
Chloe tells Clark that Lana went to stay with Nell after she caught Simone Chesterman and (hypnotized Clark) together.
Season Six
Nell came back into Lana's life when Lana became engaged to Lex Luthor. She helped her pick out a wedding dress in Paris and attended Lex and Lana's wedding.
She also offers to keep Lana company after her false miscarriage.
Season Seven
Nell has been visited by Lana frequently since the wedding, and Lana sometimes uses that as an excuse to Clark while she goes and does work on her Isis Foundation, to spy on Lex, or when she was holding Lionel Luthor captive.
In the Comics
In the comics (prior to Crisis on Infinite Earths), Lana Lang's mother, Sarah, did not have a sister but a brother, Phineas Potter. Phineas was a Professor of Science and he frequently concocted various wild inventions which both aided and confounded the likes of Superman. His first appearance was in Superman's Pal, Jimmy Olsen #22 (August, 1957).
After Crisis on Infinite Earths rebooted continuity, Lana had a paternal aunt named Helen Lang. Helen's first appearance was in The Man of Steel #6 (December, 1986). Similar to Nell Potter, Helen Lang raised Lana, after the death of Lana's parents.[2]
Appearances
1
2
3
4
5
6
7
8
9
10
11
12
13
14
15
16
17
18
19
20
21
22
23
#
Season 1
X
-
X
X
-
-
X
-
-
X
-
X
X
-
-
-
-
-
-
-
-
N/A
7
Season 2
-
-
X
-
-
X
-
X
-
-
-
-
-
-
-
-
-
-
-
-
-
-
-
3
Season 6
-
-
-
-
-
-
-
-
-
-
-
-
-
-
-
X
-
-
-
-
-
-
N/A
1
Total
11
Notes
References