Jurassic World: Dominion Dominates Fandom Wikis - The Loop
Play Sound
Mairzee Almas was a Second Unit Director and Assistant Director of Smallville. She also directed the following episodes:
Season Six
"Nemesis" (written by Caroline Dries) - Claiming Lex kidnapped her missing husband, Jodi Keenan threatens to blow up an underground maze with Lex inside unless he tells her where her husband is. Clark sets off to rescue Lex, but is immediately felled by the kryptonite lining the earthen walls. Trapped together, the two reveal secrets about each other that were best left unsaid. They realize the only way they will make it out alive is by helping each other.
Season Seven
"Action" (written by Caroline Dries) - Clark allows a Warrior Angel movie to be filmed on the Kent Farm. But when two attempts are made on the lead actress' life, Clark is caught saving her by an obsessed Warrior Angel fan. The fan then decides that Clark is a real superhero and is being held back from his destiny by his relationship with Lana. Meanwhile, Lionel Luthor's fate is revealed.
Season Eight
"Toxic" (written by Caroline Dries) - Oliver collapses at a charity event and reveals he only has 24 hours to live. Clark and Chloe call Davis for help but his prognosis is grim. Delirious, Oliver flashes back to when he was stranded on an island and first learned how to use a bow and arrow. He also recalls meeting Tess for the first time on that island after she had been kidnapped by a drug runner. Meanwhile, Chloe decides to use her new powers to help save Oliver, shocking Clark.
"Identity" (co-written by Todd Slavkin & Darren Swimmer) - Jimmy snaps a picture of Clark super-speeding to save Lois from a mugger and manages to catch a red and blue blur on film. Jimmy shows it to Tess who decides to run it on the front page of the Daily Planet. Clark fears his identity will be discovered so he asks Chloe to run interference with Jimmy, but she refuses.
"Hex" (written by Bryan Miller) - At Chloe's birthday party, a mysterious magician named Zatanna grants Chloe's wish to be more like Lois and switches the two into each other's bodies. Zatanna searches for her father's book of spells so she can conjure up his spirit but not before also granting Clark his deepest wish.
Season Nine
"Metallo" (co-written by Don Whitehead & Holly Henderson) - After being struck by a truck, John Corben wakes up alone in an abandoned apartment as a man-machine with a kryptonite heart. Corben realizes he now has superhuman strength and sets out to exact revenge on the Red-Blue Blur, who he perceives to be an irresponsible vigilante. Against Clark's wishes, Lois involves herself in the Red-Blue Blur's investigation, and winds up getting kidnapped by Corben.
"Disciple" (written by Jordan Hawley) - Oliver's past comes back to haunt him in the form of the Dark Archer, Oliver's former teacher, who seeks revenge on his student by taking aim at Lois and Chloe. Oliver faces down the Dark Archer after his former mentor kidnaps Mia AKA "Speedy", but is pushed to his limit and Clark races to stop him from making another deadly mistake.
Season Ten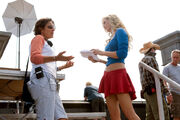 "Supergirl" (written by Anne Cofell Saunders) - Clark is stunned when Kara returns to Earth telling him Jor-El sent her to stop the dark force that is coming, because he doesn't believe Clark can handle it. Meanwhile, Lois confronts Gordon Godfrey, a shock jock radio host who begins crusading against heroes, after he threatens the Green Arrow. However, after Godfrey is possessed by the dark force, he takes Lois hostage while Clark and Kara have to come to her rescue.
"Icarus" (written by Genevieve Sparling) - The VRA is in full effect and things take an unfortunate turn of events after the Green Arrow tries to stop a mugging but is attacked by citizens for being a super hero. Clark discovers that the civilians who attacked Oliver were all marked with a darkness tattoo. Carter Hall and Stargirl return to help Clark deal with Slade's re-emergence after he kidnaps Lois.
Notes
The first three episodes that Mairzee directed were written by Caroline Dries.
Mairzee and Caroline Dries were the only all-female directing/writing team on Smallville.
Trivia
Mairzee Almas also directed episodes of the television series Lucifer, Arrow, Supergirl, Iron Fist, DC's Legends of Tomorrow, Jessica Jones and Batwoman.
External links