Doctor Strange in The Multiverse o Madness - The Loop
Play Sound
Main Street is the town plaza of Smallville.
Main Street contains many small businesses, and is central to the social life of the town.
The Talon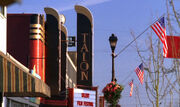 The Talon was a historical theater turned coffeeshop, and the local hangout for teens in Smallville. It featured a full service espresso bar, a fully-functioning theater, and was a venue for local bands. It contained a loft apartment, occupied, at different times, by Lana Lang, Chloe Sullivan and Lois Lane, among others. The building was blown up by the Suicide Squad in 2010.
Antique shop
The Antique Shop is a shop that was run by Rose Greer, Tina Greer's mother.
Auto Repair
Frank's Auto Repair: an automobile repair shop at Smallville. It's where one of the Jocks that strung up Jeremy Creek was working when he was electrocuted by him. It is also where Lex Luthor almost killed Clark Kent, while hypnotized by Bob Rickman.
Smallville Body and Fender: the auto shop that serviced Jodi Melville's car after she hit a deer.
Beanery
The Beanery was a coffee shop where Clark Kent, Lana Lang, Pete Ross, Whitney Fordman, Chloe Sullivan, and Lex Luthor hung out in before the Talon opened. It has an upright piano and was known to close at 9:00 PM. Lana went to work for the Beanery as a waitress after she had given up on being a cheerleader. Zoe Garfield was also a waitress there.
Nell's Bouquet
A flower shop owned and operated by Nell Potter. It is connected to the Talon Theater, but remains currently closed, as Nell has moved away from Smallville. On the day of the Meteor shower, Jonathan and Martha Kent went into Nell's shop to buy some red tulips. During their visit, Martha accepted Lana Lang's invitation to make a wish, which she used to wish for a son.
Melville's Nursery
Belonging to the family of Jodi Melville, it was located next to one of the big meteor hits.
Smallville Savings and Loan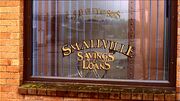 The Smallville Savings and Loan is the local bank at Smallville. It was founded in May 9, 1936 with funds donated by Farrell and Associates. It was robbed once by a metahuman, Tina Greer, posing as Lex Luthor. Another gang of metahumans attempted to rob the bank with less success. Wade Mahaney, Derek Fox and Scott Bowman had to leave empty handed after they tripped the alarm, oddly enough, after they entered the vault. During his investigation, Clark discovered the remains of a human arm inside the door of the vault. Apparently, one member of the gang misjudged the time he had left before his temporary powers would expire. As of the episode, Tempest, the bank was owned by LuthorCorp.
Fordman's Department Store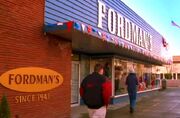 Fordman's Department Store was founded in 1943. It is owned and operated by George Fordman and Betty Fordman. Their son Whitney also worked there. It is across the street from the Talon.