Jurassic World: Dominion Dominates Fandom Wikis - The Loop
Play Sound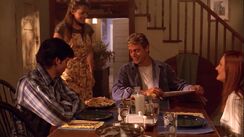 Martha Kent was usually friendly to Clark's friends but became particularly close to Lois Lane, offering her a place to live and regularly giving her advice. Jonathan Kent, who was usually cautious about who he invited into his family's life in order to protect Clark's secret, welcomed Lois and also developed a close bond, as they worked together during his campaign for State Senator.
Season Four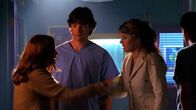 Martha first met Lois in Smallville Medical Center after Lois found a naked and amnesiac Clark in a field after Jor-El had returned him to Earth. Martha was keen to keep Clark's secret from Lois but showed her gratitude for taking care of her son. Clark later invited Lois to live on the Kent Farm while she was in town.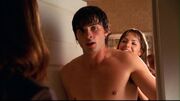 Martha agreed to let Lois stay at the Kent Farm and was very welcoming to Lois' father, General Sam Lane, and sister, Lucy Lane. Nevertheless, Martha was shocked to discover Lois with a naked Clark after Lois had burst into the bathroom during Clark's shower.
After Lois was kicked out of Metropolis University, Clark re invited Lois to live on the Kent Farm with him and his family.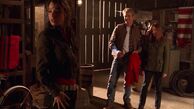 When Lois accidentally hits a dog and brings it back to the farm to heal, The Kent family most notably Clark bonds with the dog naming him Shelby. Clark particularly loves shelby because he discovered that Lois is allergic to him.
Despite liking Lois, Martha was relieved whenever Lois was out of town, as it was difficult to keep Clark's secret when she was in such close proximity and she was often have a disruptive influence on Clark. Martha was keen for Clark to use Lois's absence to focus on his university applications.
Lois' younger sister Lucy arrived unexpectedly in "Smallville", Lois attempted to persuade the Kents to allow Lucy to stay by cooking them breakfast. Despite the disastrous meal, The Kents happily agree to have Lucy with them much to Clark's dismay at first.
Lois was surprised by Martha's behavior when Martha was possessed by the spirit of Dawn Stiles and aggressively suggested that Clark wanted to take Lois to the prom. Lois eventually understood Martha's strange behavior when she too was possessed by Dawn. The Kents were sad when Lois announced that she was leaving with her father after Clark's graduation.
Season Five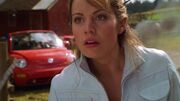 Lois was concerned for Jonathan and Martha's safety after the second meteor shower. Lois rushed round to the Kent Farm to check on them and was shocked to discover that Martha was trapped under the rubble of the house. She helped Jonathan find Martha and take her to the hospital.
Martha admitted how proud she was of Lois when she secured herself a job, apartment and car. Lois seemed pleased by that and was keen to spend time with her "new best friend" by giving her lifts in her new car.
Lois was also close to Jonathan and helped him campaign to become State Senator. Lois agreed with Martha to keep the finances of the campaign secret from Jonathan, as Lois trusted Martha's judgment to involve Lionel Luthor. Nevertheless, Jonathan soon became suspicious and confronted Lois, who tried to appease his concerns but eventually admitted the truth. Lois tried to take the blame for the decision to rely on Lionel to protect Martha but Jonathan saw through Lois' lies but admitted that he appreciated her help and discretion.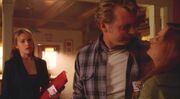 In an attempt to help Lex Luthor win the election, Samantha Drake tried to set up a scenario for people to believe that Lois shot Jonathan Kent in a jealous rage after she had an affair with him but he refused to leave his wife. Lois felt cornered, as Samantha held a gun to her head, although Lois remained confident that nobody would believe that she would betray her friend, Martha. Nevertheless, Lois was able to overpower Samantha and Jonathan ultimately won the election. Lois was keen to throw a big victory party for Jonathan.
Jonathan's win was short-lived, as he died of a heart attack after his victory party. Lois attended his funeral. Martha soon took over Jonathan position as State Senator and employed Lois as her assistant. Martha and Lois worked closely together during this time.
Lois became involved with a serial killer and, once she discovered the truth about her boyfriend, she confided in Martha that she always seems to fall for the wrong guys. Martha reassured her that she was once in a similar situation but convinced her that eventually she will find the right one.
Lois was keen to encourage Martha to embrace her growing feelings for Lionel, as she wanted her friend to be happy despite the loss of her husband. Martha felt comfortable confiding in Lois as they made their way to Washington for a Senator meeting.
When their plane seemed to have been hijacked Lois and Martha struggled to help each other to survive the falling air pressure but fell unconscious with the lack of oxygen.
Season Six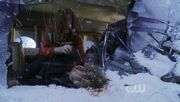 Martha was concerned for Lois when she awoke in the wreckage of their plane to discover Lois badly injured with both of them stranded in the Arctic Circle. Martha took care of Lois and dragged her to the safety of the Fortress of Solitude. She prioritized Lois safety over Clark's secret indicating how much she cared for Lois. Nevertheless, Lois didn't discover Clark secret as, when she awoke, Lois thought that she had been in heaven.
Lois clearly felt comfortable around the Kents as she would often drop-by and help herself to the contents of Martha's fridge. Martha was worried that Lois would discover Clark's secret when he developed an uncontrollable and powerful super-sneeze. During her investigation into the unexplained occurrences around the Farm, Lois discovered her passion for journalism, although her commitment to Martha made her pursue both journalism and her role as Martha's assistant.
Martha was angry with Lois when she mistook Oliver Queen for a delivery boy. Once Lois realized her mistake, she apologized to Oliver in the hope of building bridges for Oliver to continue his support of Martha. She revealed how much she thought of Martha's fantastic work in her role as senator and helped orchestrate a meeting between Martha and Oliver at Lex's charity ball, which Martha was grateful for.
Lois was very protective of Martha and when a mysterious man stole Martha's necklace during a charity ball, Lois put herself in danger by chasing him to the elevator shaft. Although he got away, Lois continued to investigate in the hope of returning the necklace to Martha. During this investigation, she became more involved with her journalist job and became less involved with Martha's work.
Despite not working together any more, Martha invited Lois to Thanksgiving dinner as a sign of their on-going friendship.
Martha was surprised by Lois' behavior when she started to dress extravagantly and showed an intense attraction to Clark. When Martha discovered that red kryptonite was behind it, she was keen to help. Martha also offered her help to Lois by giving her a safe place to stay when she was being targeted by super soldier, Wes Keenan. Lois also requested that Martha use her government connections to get Wes' records. Martha promised to do what she could and managed to get the file, which ultimately helped Clark save Lois' life.
Season Nine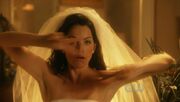 When Lois was persuaded to marry Clark, Martha was one of the first people that she phoned. She was excited about calling her "Mom" and Martha was happy for Lois to wear her old wedding dress.
Martha makes an unexpected return to Smallville with her new boyfriend Perry White. During her visit Lois and Martha share a moment where they both reflect on the life choices they both decided to take that's given them purpose. Lois believes she's found her purpose at the planet as a reporter as well as helping the Blur, at this moment she has doubt on her current relationship with Clark. Martha explains how she found her purpose when she came to Smallville and met Jonathan Kent and tells Lois that she needs to look inside herself to discover hers.
Season Ten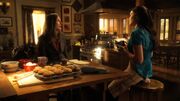 Martha returned to Metropolis to attend a pro-vigilante rally to give a speech of inspiration to the crowd attendance. Lois and Clark watched on the television in horror as Martha was gunned down. Clark rushed to the hospital only to discover that Martha was alright and talking to Lois on her cell. Martha later paid Lois a visit on the farm to see that Lois is in the kitchen baking muffins and has a list of potential candidates that might have reasons for attacking her such as Ray Sacks & Bruno Mannheim... Lois was attempting to impress Martha with her impressive investigative abilities.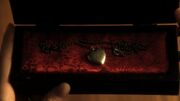 But Martha reassured Lois that she was already impressed with her a long time ago . Martha told Lois of her approval of Lois's engagement to Clark and how much of a positive inspiration she been to Clark . Martha also gave her a heart shaped necklace that held sentimental value. In addition she also gave Lois an inspirational idea she'd learned from Perry and Lois used that to rally support for the Blur. Later Lois, Martha, Chloe, Oliver, and Clark watched with joy as the VRA was repealed in a nationwide vote.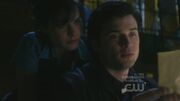 Martha, while she sent Clark and Lois an early wedding present, the deed to the Kent Farm.
Clark Kent was transported back to Earth-2 by Clark Luthor and saw the funeral of the Oliver of that Universe as Luthor murdered him for revealing that he (Luthor) was Ultraman and his weakness to kryptonite to everyone of that Earth. There he also saw a disgruntled Jonathan Kent ranting about how Ollie ruined Smallville and Lois married and grieving over Oliver.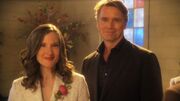 Martha returns and is present for the wedding ceremony of Lois and Clark, with the spirit of Jonathan Kent watching on proudly with their blessing and approval. Martha and Lois later witnessed Darkseid's Apokolips descend upon the world.
Season Eleven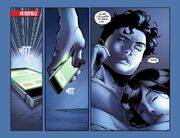 When Martha is attacked in Washington DC, she tires desperately to contact her son who was currently sleeping with Lois in their Metropolis apartment she gets a hold of him asking for help. Fortunately Martha receives help from a mysterious Wonder Woman.
As a result Lois and Clark make preparations to travel to Washington and thanks to the timely assistance of Perry White, The Daily Planet get the exclusive interview rights and the couple get an all expenses paid flight. Clark is slightly overwhelmed covering this story as he's having a hard time being an objective reporter with this being a story involving his Mother which makes it a personal matter. Lois encourages him to find away.
Arriving at Martha's Washington residence, Lois and Clark receive a warm welcome from Martha and Shelby, plus a home cooked meal prepared specially for them. The Kents family discuss how Conner is adjusting to his life and that he's attending a special school in San Francisco founded by Jay Garrick, Lois inquires to Martha how Clark got his birth certificate and identification legal, Martha reveals that Jonathan had made a deal with Lionel Luthor long ago.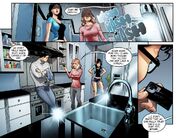 They also talk about the attack, how worried Clark was and the mysterious woman in white who saved Martha. Lois says that the attack had something to do with D.E.O., mentioning they appear to be more than a little shady when they took Corben into custody last month, they also discussing on how to act now. Clark says he will investigate the D.E.O and Lois will investigate Martha's mysterious savior.
In the comics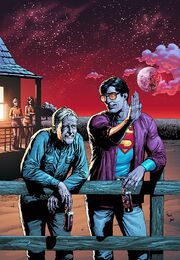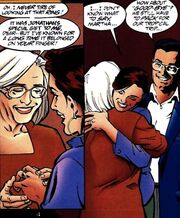 Even before her marriage to their son Clark, Jonathan and Martha Kent had already accepted Lois Lane as a part of their family due to their son's attraction to and special relationship with her. From their first meeting Martha took a great liking to Lois; she saw why her son loves her the way he does as well as a reflection of what she was like in her younger years, before Jonathan entered her life. When Clark decided to marry Lois his talk with his father inspired him to be completely honest with Lois about his identity as Superman. Jonathan was delighted to have Lois officially a part of the Kent family.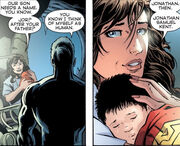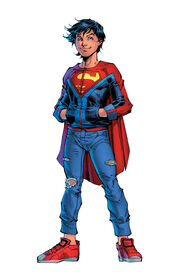 When Lois is pregnant and gives birth during a crisis event, She decides to name her son after Clark's and her own father, The boy is born as Jonathan Samuel Kent, a half-human/Half kryptonian hybrid. Following in the footsteps of his father he dons the cape as "Superboy".