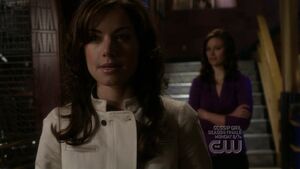 "Lois Lane.. I haven't fired you yet?" - Tess Mercer
"Guess you're too busy printing my stories." - Lois Lane
The relationship between Lois Lane and Tess Mercer started off as one of the most hostile on the show but gradually evolved into an uneasy friendship as they realized they were both fighting to save the world.
Season Eight
"By the way, next time, you might want to try microfiber, works wonders". Tess Mercer to Lois Lane, Odyssey.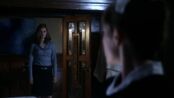 Lois and Tess first met when Lois was sniffing around the Luthor Mansion for clues to the whereabouts of her cousin Chloe Sullivan. Disguised as a French maid, Lois tried to trick newcomer Tess into believing that she was a servant but Tess remained unconvinced. Lois at first presumed that Tess was one of Lex's secretaries, but then Tess revealed that she had heard of the intrepid Lois Lane and that she had been waiting to meet her. When Lois called into question the true intentions of Lex Luthor, Tess strongly defended her mentor, saying that Chloe probably deserved to be arrested.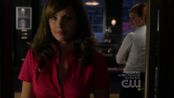 When Lois discovered that her new boss at the Daily Planet was Tess, she was far from pleased and described Tess as a "pit-bull in Prada". Lois continued working for Tess, although their interactions were not entirely pleasant. Despite their ill-feeling towards each other, they shared one thing in common: Oliver Queen. Both used to date him and when he hit the headlines after collapsing during a charity event, Tess thought that it was caused by Oliver's addiction to alcohol. Whilst Tess wanted to berate him in the paper, Lois confronted Tess and insisted that Oliver was a good person. Tess revealed that she knew of the relationship that Lois had with Oliver and felt that she couldn't be objective enough to write the story. Lois decided not back down in front of Tess and accepted the job unknowing that Tess also had a past with Oliver.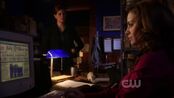 When Tess' Crystal of Knowledge was stolen, Tess suspected Lois and hired meteor freak, Sebastian Kane, to find out what she knew about the theft. Although Sebastian discovered that Lois knew nothing of the crystal, he also realized that she had discovered his criminal past. When he informed Tess that he would have to kill Lois, Tess was nonchalant and responded without remorse or guilt.
Tess obviously considered Lois to be expendable, although she quickly changed her mind when she encountered a super powered Lois, after she had been possessed by Faora. During this encounter, Tess discovered more information about the mysterious Kryptonian that she had earlier heard about from Maxima. This information intrigued Tess and, once Lois was exorcised of Faora, Tess gave Lois a raise, because she realized that having Lois close could answer many of the millions of questions that she had.
When Chloe disappeared after running away with Davis Bloome, Lois learned that Tess was tracking them and decided to get into her office to see what she could find out. With the help of Jimmy, Lois decrypted her computer and found a video in which Tess cruelly interrogated Regan Matthews about the orb. Tess learned that Lois was in her office and accused her of having stolen the orb.
As Lois was more interested in finding Chloe, she quickly resigned herself to losing her job following her break-in. However, Tess was not willing to leave it there and began to fight Lois in a desperate attempt to force her to reveal the location of the orb. Tess began to strangle Lois but she defended herself by hitting Tess in the face with a box that held the Legion ring. As Tess fell unconscious on the floor, Lois became intrigued by the ring and, as she picked it up, she was transported to another time.
Season Nine
"Well, I'm not gonna get into the whole "she said, she said" thing with you". Lois Lane to Tess Mercer, Metallo.
After being missing for three weeks, Lois suddenly reappeared and thought that her memory loss was due to something that Tess did to her. She went to the Luthor Mansion to confront Tess about what had happened and to let her know that she would not leave her job, but Tess told her that she had nothing to do with her disappearance. Tess told her that she had already fired her and then Lois threatened her saying that she would reveal to the world what she had heard in Regan's interrogation video about an alien invasion. Tess decided to rehire Lois, especially as she wanted to find out where she had been. Tess decided to keep track of Lois by installing spy-wares on to her computer.
When Tess was attacked by rabid zombies, Lois was reluctant to believe they were zombies and concluded that Tess was crazy by speaking and believing in aliens and undead people. However, when Tess woke up transformed into a monster, Lois was made to back her words and decided to write an article about it.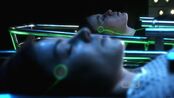 Tess continued to monitor closely Lois, controlling their therapy sessions and all their movements, until Lois fell into a coma after suffering a breakdown. It was then that Tess found the perfect time to discover the things locked inside the mind of Lois and kidnapped and moved her to Belle Reve to subject Lois to special treatment. Upon discovering that Lois had been in the future, Tess decided to connect her mind to Lois mind to understand fully what she had seen. After witnessing the possible future, Tess ordered her assistant erase all the memories that Lois had, even when that meant leaving her in a permanent coma but was stopped by Clark Kent.
Tess was suspicious of Lois when she received a parcel at work. Lois had to reveal proof that it was for her before Tess would leave her alone. Little did they know that they would both become Checkmate agents.
Lois was more than happy to gather information about Tess for the Blur, although this was actually Major Zod disguised as the Blur. Lois discovered John Corben was in Tess's lab and was being experimented on and with that she helped him find kryptonite to recharge his weakened heart and tried to get him out of Metropolis, but they were intercepted by one of Tess' agents. Lois returned to the secret lab in the hope of finding Corben but instead met Tess and confronted her, but Chloe chloroformed her unconscious and took her away. Later Lois gave Corben a new kryptonite heart that she stole from Tess.
Season Ten
"From now on, mi com-set es su com-set." - Tess Mercer to Lois Lane at Watchtower, Patriot.
Over time, Lois and Tess's dislike for each other began to diminish seeing as how Tess was trying to turn over a
new leaf in her life for the better. Lois began to see this and therefore began to have less hostile interactions with Tess when running into each other at the Daily Planet. It was not until Lois found out that she was working with Clark and the Justice League as the new Watchtower that she realized that the two of them were fighting on the same side against the VRA and the darkness gradually consuming the planet. When Clark brought Lois to the Watchtower to welcome her to his team, Tess was there to welcome her to the team as well and extended a personal olive branch by offering her access to Watchtower. Much to her surprise, Lois appreciated this gesture of kindness and friendship from Tess and it was at this point that her negative opinions of Tess began to change into more positive ones.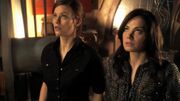 Tess called Lois via the cell phone of the man standing behind her in line at a coffee shop after Lois ignored her call through her phone. She told Lois to get to watchtower right away. Lois arrived at Watchtower to find Tess frantically searching for the other team members with no success. She told Lois that watchtower is the safest place for her right now to be protected from Clark Luthor, an evil Clark from an alternate universe whom had switched places with the good Clark. Luthor found Tess and Lois in Watchtower. Lois at first believed that red kryptonite was the cause of Clark's behavior, but he threw her into a wall, and demanded that Tess give him the mirror box or else he would kill her.Later a battle ensued between Ultraman and them as well as Oliver joining them in the battle. Kent managed to switch back to his universe and Luthor back in his. When Kent came back he found Lois, Tess, and Oliver pointing weapons at him ready to fire, but he managed to convince Lois it was really him, allowing Tess and Oliver to lower their weapons.
Tess learned that Lois was going to be the new Mrs. Clark Kent. Tess told her that she hopes it wouldn't
interfere with her work at the Daily Planet. She then told Lois that since the VRA was boosting security so was Watchtower and that Lois needs to be there to upgrade her retinal scan clearance that night. As it turned out Clark appeared at the same time and that Tess threw them a surprise engagement party at Watchtower. Later both Lois and Tess along with Emil Hamilton were brought in for questioning by the government demanding information about the heroes. Lois managed to escape out of Tess's office through a secret slide Tess had.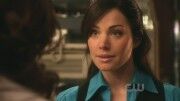 Tess was getting into work at the Planet, when Lois had shown her the latest paper that authorized articles that were acting against the Vigilantes of Metropolis. Tess denied having any involvement in that, and Lois wondered who could have.
Tess asked for Lois's help to order to stop alternate universe Lionel Luthor by exposing him for being a fake not being the original Lionel. Lois gladly accepted and began searching for ways to bring Lionel down.
Clark Luthor returned to Earth-1 and sent Clark Kent to Earth-2 and asked Lois where he could find Lionel and Lois said to ask Tess. Lois realized which Clark it was and frantically called Tess but Tess did not answer. Tess later learned of the situation and phoned back Lois and Emil and they told her they were working on a way to repair the mirror box to bring Kent back and to stall Luthor.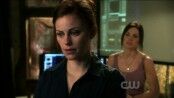 Tess informed Clark and Lois that General Slade had escaped the Phantom Zone and was found unconscious on a street corner. After Clark and Oliver went into the Zone to investigate of what is going on there, Tess was approached by Lois to get an update on what was going on and Tess began to be reluctant about sharing information. After Lois discovered that Tess had planned with Clark to destroy the gateway of the Zone from the inside, she threatened Tess with a gun to stop their plan as Tess did not hesitate when allowing her friends to be trapped under the guise of the greater good, but Tess states that she was only following Clark orders. Lois however managed to change Tess's mind and Clark and Oliver managed to return on their own.
Lois listened to a voicemail from Tess, warning everyone of Darkseid's coming Apokolips. Lois then helped Clark figure out that Tess was taken by Lionel and how to find her.
Season Eleven
While Lois is having a conversation with Lex Luthor, Tess forces Lex's body to write a note on a Post-It against his awareness, which Lois picks up. On her way out of the office, Lois reads the note and is baffled by its one word: "Help!"
Later in the roof of the Daily Planet Jeff informs Lois that he gave the note Lex had written to his roommate Bert Camp, his "contact" on the police force, and that Bert had a handwriting consultant take a look. They were able to match with 95% certainty that the handwriting belongs to Tess Mercer.
Lois finds Otis in a bar drinking and discovers that he's now an ex-employee of Lex's. Lois uses this opportunity to confront Otis about Simon Jones who called her to tell her about Lex's request for him to use his telepathic abilities to probe his mind but is prevented by Tess. Otis is shocked by this news and refuses to reveal his knowledge to Lois. Lois decides to enlisted help from Barbara Gordon to get Otis to open up.
At LexCorp Plaza, Lex heads towards his office only to find Superman with Green Arrow and Lois Lane revealing they are here to take Tess back. Lois slaps Lex knocking him unconscious. Later at Watchtower, Clark, Lois and Oliver stands patience as Emil downloads a grateful Tess into a computer system making her a hologram.
At Watchtower, Chloe, Tess, Clark and Lois discuss about Earth-2, which was presumably annihilated by the Monitors, and Clark wonders what crime could that Earth have committed to deserve to merit annihilation. Chloe says everything she knows about the alternate Earth and the Monitors but also informs them that the memories, that were transported to her from her doppelgänger never actually took root and she only gets fleeting glimpses. Tess informs them that Lex is preparing his jet to visit Moscow and Lois thinks of a way to sneak in as a press attaché and go to Russia with Lex so she can keep an eye on him. Clark then says he has a better idea and the proceeds to communicate with another member of the team, asking for a favour.
Alternate Future
"You redheaded rat!" Lois Lane to Tess Mercer, Pandora.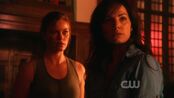 Lois landed in the future trying to continue her fight with Tess but soon realized that she was not at home and after being trapped by the Kryptonian army, she met Tess at the Luthor Mansion where Lois accused her of treason for having destroyed the human race. Lois presence how Tess became an honorary Kryptonian and then also witnessed how she was killed by the resistance movement. Lois accompanies Oliver while he buried Tess's body in a pit.
Notes
Lois Lane is one of the best reporters who Tess has at the Daily Planet.[1] However, such praise contradicts sometimes, as Tess has openly insulted Lois.[2]
Despite working for Tess, Lois always called her by her forename as with Lex. However, Tess has referred mostly to her by her surname.[3] Tess has shown little patience for people who not respect her hierarchy.[4]
Lois and Tess have some admiration towards each other in different ways. Lois admires the seriousness of Tess in her job as manager of the Daily Planet,[5] and Tess admires the firmness with which Lois confronts the things.[6] However, Tess has proven to manipulate Lois without Lois realizing it.[7]
Lois and Tess have great fighting skills. Lois is a black belt in karate and Tess knows various forms of martial arts.
Lois, Tess and Chloe were the only three women who left their mark on Oliver Queen.
Lois and Tess are the only two main female characters to have never been harmed by Brainiac.
Lois and Tess were the former agents of Checkmate. Amanda Waller recruited Lois, but Tess was a long-time employee of the agency before Lex chose her to run the Daily Planet and Luthorcorp.
Lois and Tess are the only two main female characters to be harmed by Lex Luthor, Zod and Clark Luthor.
Quotes
---
Tess: I kind of miss the maid costume.
Lois: I've stopped cleaning up after you.
Tess: You could have fooled me.
---
---
References
See also
Community content is available under
CC-BY-SA
unless otherwise noted.