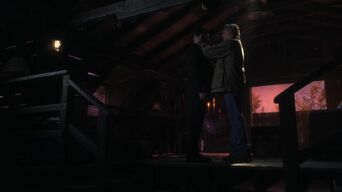 The loft is an upper-level balcony in the barn of the Kent Farm. Jonathan Kent built the loft for his son Clark, calling it Clark's "Fortress of Solitude" - a place for him to come and think. Clark Kent often spends more time in the loft than in his actual house.
Physical Layout
The loft features a couch, a desk, a hammock, and bookcases, and Clark is usually seen either doing homework or having the occasional make-out session with his girlfriend at the time.[1]
The loft also housed Clark's telescope, which he used to study astronomy (and to spy on Lana Lang from across the street) before it broke in the Spring of 2006.
Clark kept his key to the Fortress in a copy of The Adventures of Tom Sawyer in the loft.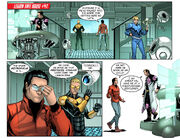 In the
31st century
the loft has been renovated along with all the barn and constructed with metal walls. It has also been updated with modern technology like robots and computers with hologram touch screens. It is used as the Legion Safe House #47.
Appearances
Notes
Gallery
Please add gallery pictures here.
See also
References
Community content is available under
CC-BY-SA
unless otherwise noted.