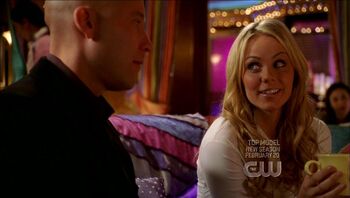 Lex Luthor had a strange obsession with Kara Kent. When she lost her memory, Lex took advantage of her to try to discover the truth about Clark Kent.
Season Seven
Kara's Arrival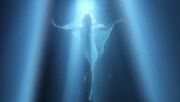 Kara
first appeared
in
Smallville
after
Reeves Dam
burst and awakened her from suspended animation. The first person she came across was Lex, who had been on a bridge in front of the dam when it burst, forcing the car that he was in underwater. Struggling to get out of the car, Lex panicked. Close to death, he saw a mysterious figure floating towards him and eventually he passed out from the lack of oxygen. He later woke up on the shore with the woman standing over him. Unable to see her properly due to the sun being behind her and still in a daze from his near-death experience, she flew off, leaving him alone. Kara had a deep impact on Lex. He vowed to make the most of this second chance and hired an investigator to find Kara. However, he was informed that the woman he was searching for didn't exist and Lex began to wonder it he had been saved by an angel.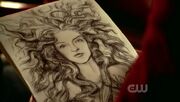 Working at the Talon
To try to fit in with life in Smallville, Kara got a job at the Talon. Being the owner, Lex was then able to find the woman from his drawing. He approached her as she was leaving and thanked her for saving him. Clearly nervous that her secret may already have been uncovered, she denied being there but remained friendly to her new boss. Nevertheless, Lex remained suspicious and insisted that he would discover the truth, which made Kara wary of him. As Lex's obsession with Clark Kent extended to his cousin, Lex continued to research Kara, whilst she managed to avoid him. But after a while, Kara got closer to him.
Rescue in Detroit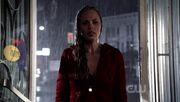 When Kara was
transported
to Detroit with no memories, Lex managed to
track her down
to a diner where she worked as a waitress. Targeting her when she was vulnerable, Lex forged a relationship with Kara by regularly visiting the diner. Unaware of the danger that Lex posed, Kara started to become friends with him. He gave her a necklace and offered help to get her memories back. Eager to get her life back, she trusted Lex, due to the kindness that he showed her and the lies about being a good humanitarian. Unbeknownst to Kara, Lex was building an obsession with her, as Clark witnessed the image of Kara saving Lex as a prominent
memory in his mind
. He was so obsessed with her that he even put himself in danger when he confronted Kara's
armed kidnapper
and was shot.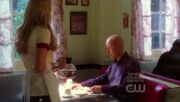 Nevertheless, Lex's interference enabled Clark to find and rescue Kara. However, when he brought her back to Smallville she felt a lack of connection between her and her cousin, as he kept their Kryptonian heritage secret. Instead, she trusted Lex, due to everything that he had done for her in Detroit. At the Talon, she thanked him for his help. Lex acted as a confidant for Kara to voice her concerns about Clark, to which he sympathized that Clark often kept secrets from him too. Once again, Lex convinced Kara that he could help her regain her memories and find out the truth about her life.
Amnesiac Kara
Lionel Luthor
warned Clark about Kara and Lex's growing relationship. Feeling safe with Lex, she
eventually trusted him
so much that she requested that she could move into the
Luthor Mansion
. Lex was pleased that she had come to him and agreed. However, this trust was not returned, as confidential conversations with his staff were stopped when Kara was nearby. As always Lex was up to his bad ways and Kara had no idea what he really wants.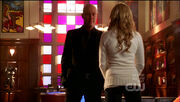 Eager to discover the truth, Lex gently pushed Kara into having a procedure to restore her memories. Having built up a relationship with her, she eventually agreed, believing that Lex wanted the best for her. However, it was obvious where Lex's priorities lay, as he forced
Pete Ross
to reclaim Kara's
bracelet
from Lionel in order to understand the Kryptonian markings, hoping it would trigger Kara's memory. His motives were completely selfish, as he maintained 24 hour surveillance of her to ensure she didn't leave. Becoming nervous that she would expose Clark's
secret
,
Chloe Sullivan
and
Lana Lang
broke into the mansion and convinced her to come with them, much to Lex's fury. Chloe was then able to restore Kara's memories at the
Fortress of Solitude
, after which Kara cut off all contact with Lex, having realized his deceptive ways. Like most of Lex's relationships, he had managed to turn his friend into an enemy due to his own manipulative ways.
Alternate Reality
"I know, and I owe my life to the both of you, but this country..." - Linda Danvers
"What do you know about protecting this country? You are an alien. I'm the President of the United States. By striking the enemy first, I am ensuring our survival. We will prevail. And through it all, I expect you to — look at me! — I expect you to stand by my side." - Lex Luthor
In an alternate universe that Jor-El showed Clark, Lex and Kara had an extremely close relationship as the Luthors discovered Kara's ship in 1989 and brought her up as Linda Danvers. While Kara saw a brother-sister relationship due to having lost her entire family when Krypton exploded, Lex simply saw himself as her superior. While Lex took the position of President of the United States, Linda would do anything for him but he regarded her with less esteem and even shot her with a Kryptonite bullet when he feared she may betray him. Kara was horrified by this as she had always looked up to him. Milton Fine stated Lex and Kara would repopulate the planet as "New Krypton".
"Final" Encounter
Having not seen her for several weeks, Lex was surprised to find Kara (actually Brainiac in Kara's form) waiting for him at the mansion. Taking advantage of Lex's "friendship" with Kara, "Kara" revealed her true origins, which confirmed to Lex that she had saved him at the dam. Lex was shocked and suspicious that she should suddenly be so open with him but she claimed that the Traveler (i.e. Clark) would destroy the world and told him to take the Orb to the Arctic Circle to stop that from happening. Not sure whether to trust her, Lex took off in his private jet without her.
Comics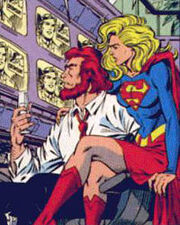 In the comics, Supergirl (Matrix ) and "Lex Luthor II" (Lex Luthor posing as his own son after he had his brain transferred in a younger clone of himself with hair) had a similar relationship, with Supergirl being his friend. Due to her naivity, she fell under Lex Luthor's influence for a while. Lex convinced Supergirl to be a hero of Metropolis and his personal body guard. Lex even sent her and his Lex Troopers to fight Doomsday when it attacked Metropolis and killed Superman. This relationship ended when Supergirl saw the the manipulative criminal Lex is.
Notes
Lex's interest in Kara mirrors his interest in Clark.
When Kara's memories are restored, she cut off all ties with Lex and never sees him again. But while she was trapped in the Phantom Zone, Brainiac impersonated her and has a meeting with Lex.
Community content is available under
CC-BY-SA
unless otherwise noted.