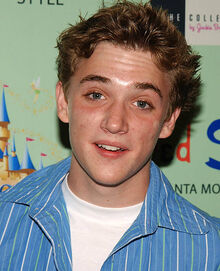 Kyle Gallner played Bart Allen/Impulse in Smallville. Kyle, born on October 22, 1986, in West Chester, Pennsylvania, attended West Chester East High School, starting his career by following his sister along to one of her auditions. He proceeded to guest star on popular shows like Judging Amy and Close To Home. Kyle, joining the cast of Veronica Mars as Cassidy Casablances toward the end of the show's first season, in May 2005 before becoming a seasonal regular during the program's second season.
Career
Kyle participated in popular series such as Judging Amy and Close to Home. One of the most prominent roles on television, was the teen series Veronica Mars, which at first appeared in sporadic as Cassidy Casablancas by the end of the first season, in the second season became a fixed character. After playing the character Bart Allen in Smallville episode "Run", Gallner reprising his role in January 2007 in the episode "Justice" and once again appeared in the final episode of the eighth season.
He also starred on Cold Case as a teenage gunman, and appeared in the independent film Sublime. He starred in an episode of Law & Order: Special Victims Unit in October 2007 titled "Impulsive" as a student who accuses her teacher (played by Melissa Joan Hart), of rape. Also appeared in an episode of Bones (2x7 - The Girl with the Curl) as "Jeremy Farrell." Gallner played the leading role in the horror film, based on real events, The Haunting in Connecticut, which has just been released in the UK, he interprets "Matt Campbell," a boy with cancer who is possessed and tormented by evil spirits. He was involved in the independent film Cherry, filmed on the campus of Kalamazoo and Western Michigan University, along with several sites in downtown Kalamazoo, Michigan. He interprets "Aaron, a freshman who becomes involved with an older woman. For 2010 it expected the movie Nightmare on Elm Street, in which he plays Quentin, a typical guy who runs the indie "Insomnia Radio" at school and dating Nancy. In 1984, Johnny Depp, starred in the film in the role of Glen.
Kyle is in the cast of indie film written by Leah Meyerhoff Unicorns. The story is about a teenager who escapes into a fantasy world when her first romantic relationship becomes increasingly violent. In 2009 he is in the movie Jennifer's Body (Brazil won the title of "Hell Girl") as Colin Gray a rocker boy at school who is murdered by jennifer who is possessed by a DEMON
Filmography
Coming Soon .
Images
→ see also Kyle Gallner/Gallery
External links
Community content is available under
CC-BY-SA
unless otherwise noted.