Doctor Strange in The Multiverse o Madness - The Loop
Play Sound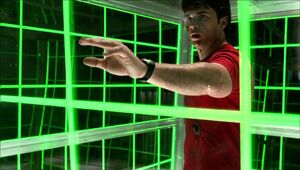 A kryptonite cage is a cell made out of green kryptonite designed to restrain Kryptonians such as Clark Kent or Davis Bloome.
Powers and Abilities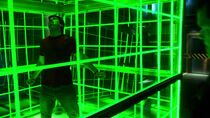 When Clark Kent was trapped in the kryptonite cage, he was incapacitated. The cage could be charged up with green kryptonite by using electricity; at a full charge, Pierce guessed that Clark could potentially die.
Vulnerabilities
The cage could be disabled by Kryptonians using heat vision from a distance.
Season Seven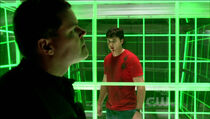 The first kryptonite cage was used after Veritas was demanding that Lionel Luthor turn over the Traveler. In response, he had Clark captured and put in the kryptonite cage. The cage was guarded by Pierce. Due to his former guard duties from Level 33.1 where he had experience tracking down and incarcerating kryptonite-infected metahumans, Pierce hated metahumans and repeatedly charged up the kryptonite in the cage in order to torture Clark.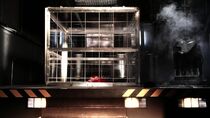 The cage was eventually disabled by Kara Kent's heat vision to disable the kryptonite charge controls. Once its kryptonite powers were deactivated, Kara threw the cage at an overhead window where it shattered the glass, exposing both Pierce and Lionel to Clark.
Season Eight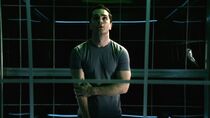 Another kryptonite cage was used by Tess Mercer to trap Davis Bloome after he attacked her as Doomsday. It was disabled by Chloe Sullivan who was supposed to destroy him, but said she couldn't do it. However when Davis began to lose control transforming into his beastly form when his eyes turning red. Chloe quickly switched the machine on to prevent him from harming Clark.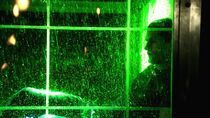 Davis was covered in green liquid kryptonite and flashed back to an earlier memory of himself as a child, being dropped off by one of Lionel's workers remembering his first transformation into the beast as he killed the worker. In tears, Chloe watched Davis die, she rushed to the cage and placed her hand on the glass. Davis did the same and he slowly stopped breathing. Clark watched on feeling guilty because there was nothing he could do to prevent Davis' fate.
Season Ten
As Slade Wilson tries to leave his facility and is confronted by the Blur (Clark). When Slade pulls a gun on him and shoots, nothing happens and Slade realizes who he's dealing with. After he says that he will not let Slade continue to destroy people's faith in justice, Slade traps the Blur in a kryptonite cage and laughs that his weakness was the hardest to figure out. The Blur pleads with Slade to release him to save Slade from the explosion. Slade tells him the prison was made to hold heroes like him and that no person should be more powerful than the law.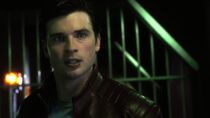 Clark again begs him to release him so that he can save them. Slade says that its his mission to destroy what he perceives to be the single greatest threat to order in the country. After Clark's third plea, Slade says he'd rather die than be saved by an abomination. Clark uses his x-ray vision on Slade to find the Omega symbol branded onto his forehead. He realizes that Slade is not going to back down and braces himself for the explosion which destroys the building around them.
Appearances
Quotes
---
---
---
---
Notes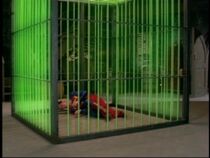 Pierce repeatedly refers to "meteor rock" and the panels on the kryptonite cage controls refer to "meteor rock". Clearly, he's unaware of the word "kryptonite". Whoever built the cage controls was either unaware of the word kryptonite or purposefully held back the name to prevent knowledge of Krypton from spreading.
Clark's prison is referred to three times as a "cage" and four times as a "cell".
Kryptonite cages have been used to imprison Superman in the comics and in television like when Lex Luthor used a kryptonite cage to imprison Superman in Lois & Clark: The New Adventures of Superman.