Doctor Strange in The Multiverse o Madness - The Loop
Play Sound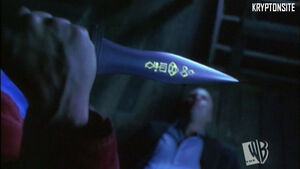 The Kryptonian dagger is a type of dagger associated with the Fortress of Solitude.
Known Blades
Physical Appearance
The Kryptonian dagger is a crystal handle fortress dagger. The pommel and blade bearing Kryptonian glyphs on its side. These glyphs translate literally as "RTDSME";[1] the meaning of the symbols is unknown.
Powers and Abilities
"The dagger is part of this Fortress. Plunging it into Fine destroyed all copies of him, but also damaged this structure and released Zod." – Jor-El, to Martha Kent, Zod
The Kryptonian dagger can injury and even kill Kryptonians.[1]
The dagger also bypasses many of the security mechanisms that limit access to the Fortress' console. When Brainiac was stabbed with a Kryptonian dagger, he was somehow able to access the Fortress to open a portal to the Phantom Zone. Normally that would require access to the crystals and console of the Fortress; somehow, because the dagger was part of the Fortress, Brainiac was able to circumvent the access limitations of the console and access the power of the Fortress directly through the dagger. (Vessel)
Vulnerabilities
The Kryptonian dagger has highly low success on Kryptonians. Clark stabbed Brainiac with it, but that was because he wanted it to happen all along, Lana failed to use it on Zod, he snapped it in half like it was nothing, and Kara failled to use it on Zor-El even though she had super speed.
Season Five
Though he had gained the upper hand on Lex, Clark could not bring himself to kill him and instead hurled the Kryptonian dagger at Milton Fine; Fine was impaled in the chest with it and used the dagger to gain access to the Fortress to release General Zod into Lex's body.
Season Six
Later, Lana tried to use the Kryptonian dagger to kill Zod, but he saw beyond her trap and broke the blade in half.
Season Seven
Another Kryptonian dagger is seen again in Blue, when Lara-El's clone takes it from the Fortress of Solitude to kill Zor-El's clone. She tells Kara that, back on Krypton, Jor-El kept a weapon in case of a last resort. When Kara tries to use it to kill Zor-El, he stops it in almost the same way as Zod in Vessel. The dagger is presumably still in the Fortress.
The glyphs on the dagger seen in Blue are identical to the ones on the dagger in Vessel.
Appearances
Quotes
References