Doctor Strange in The Multiverse o Madness - The Loop
Play Sound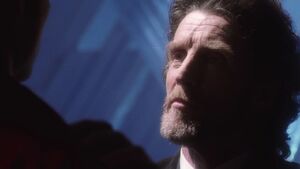 "The connection that I felt with, uh, Jor-El and the fortress... it's gone. I can't feel his presence anymore."
— Lionel, about being a former Vessel Zod
A Kryptonian Vessel is a human or humanoid whose body is host of a disembodied Kryptonian or microscopic organism of the same origin, voluntarily or involuntarily.
Types of vessels
Granted Powers
Conduits/Emissaries
Possessed
Powers
Basic
Advanced
Weaknesses
Quotes
Clark: I was... I was just at the hospital. How did you get me here?
Jor-El-as-Lionel: The portal in the cave. When this body was activated by the crystal, it became an oracle of Kryptonian knowledge. A vessel for me to inhabit if ever you should need me. That time was now.
---
Jor-El: (to Clark) Zod's physical body was destroyed to prevent him from escaping the Phantom Zone. He can be freed if he finds a body-- a vessel to inhabit. You must find the human vessel and destroy it. No matter who it maybe.
---
Milton Fine: (referring to Kara) It didn't look like she had much fight left in her. But she'll heal. She's healthy. So is Lex Luthor... the vessel. Together, they will repopulate the planet, and Krypton will rise again.
---
Chloe: What did you do with Lois?