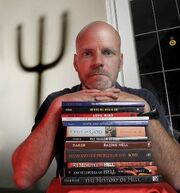 Kevin Miller played Lex Luthor in Bride and Requiem after Michael Rosenbaum ended his role as Lex in Season 7. Due to the injuries that Lex sustained after the Fortress of Solitude collapsed in Arctic, the producers were able to disguise the fact that Rosenbaum had been replaced by having some sort of life support machine covering most of Miller's face and distorting his voice. The voice you hear in the episode is actually Matt Adler. Although Kevin does have one other acting credit in his first film After..., which he co-wrote with director David L. Cunningham, he normally works as a writer/director/producer. His recent credits include spOILed, Sex+Money, With God On Our Side, Expelled: No Intelligence Allowed and the documentary Hellbound?
Kevin landed the role of Lex after responding to an open casting call in Vancouver, where the series was filmed. He never dreamed he'd get the part—he only responded to the casting call on a whim. [citation needed]
Originally, he was just going to double for Michael Rosenbaum. But then he was bumped up to full actor status, although his voice was eventually replaced by Matt Adler.
Community content is available under
CC-BY-SA
unless otherwise noted.