Justin Hartley was born in 29 January 1977 in Knoxville, Illinois. He is the second of four children. An older brother, Nathan, and two younger sisters, Megan and Gabriella. He grew up in Orland Park, Illinois. Justin met his wife, Lindsay, while working on Passions. Hartley married Lindsay Korman (later Lindsay Hartley) in May 2004. Justin and Lindsay have a daughter, Isabella Justice Hartley (born 3 July 2004). The two have since officially divorced.
Career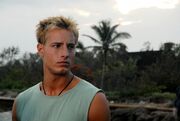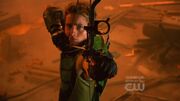 He attended Carl Sandburg High School. After that, he went to the University of Illinois at Chicago where he majored in theater and history. He then became known to TV audiences for his role as Nicholas Foxworth Crane on the NBC serial Passions. Justin was nominated for the Soap Opera Digest Award. Following his departure from Passions Justin was signed to star in a TV series based on the DC Comics character Aquaman. Justin portrayed the main character Arthur Curry. The pilot was produced and created by Smallville creators Alfred Gough and Miles Millar, but sadly did not get a place on the CW's schedule. The pilot did make its way to iTunes where it did very, very well. Even though Aquaman didn't swim, the producers were impressed enough with Hartley that they cast him for a multi-episode role in Smallville's Season Six as Oliver Queen (Green Arrow).
Justin says his favorite experience on Smallville was getting to know the cast, and getting into the characters they play. He really enjoys working with Tom Welling, Erica Durance, and Michael Rosenbaum. He even brought Lindsay on the show one time.
After returning to Smallville for an episode of Season Seven, Justin Hartley was supposed to star on his own show with Cassidy Freeman as his co-star. However the show was canceled. Cassidy Freeman went to play Tess Mercer on Smallville Season Eight and Justin Hartley returned to his role of Oliver Queen/Green Arrow in Season Eight of Smallville as a series regular. He was signed up for Smallville Season Nine and Season Ten.
Quick Facts
Has an older brother named Nathan and younger sisters named Megan and Gabriela
His Astrological sign is Aquarius
His height is 6'2"
Has a dog (half beagle-half terrier) named "The Gooch"
Trivia
Played various sports in high school, including baseball, basketball and soccer.
Justin Hartley starred in the movie, Spring Breakdown. He portrayed the character Todd.
Justin's hero growing up was Ozzie Smith who played shortstop for the St. Louis Cardinals
Justin was on the The Sharon Osbourne Show back in January 2004.
Justin left Passions in February 2006, choosing not to renew his contract.
When he first arrived in LA, Justin had $324 in his pocket.
He is an avid basketball player.
Justin's favorite comic superhero is Superman.
Justin met his wife Lindsay at the Passions set, they got married and have a baby girl named Isabella Justice Hartley.
Filmography
The Young and the Restless (2014 - ) .... Adam Newman
Revenge (2013)... Patrick
Emily Owens M.D (2012) .... Will Collins
Hart of Dixie (2012) .... Jesse Kinsella
Austin Golden Hour Pilot (2008) .... Rhett Clark
Spring Breakdown (2007) .... Todd
Smallville (2006-2011) .... Oliver Queen/Green Arrow
Passions (2002-2006) .... Nicholas Foxworth Crane
Race You to the Bottom (2005) .... Joe
Mercy Reef/Aquaman Pilot (2006) .... Arthur Curry
Images
→ see also Justin Hartley/Gallery
→ more
→ more
→ more
→ more
→ more
External links
Community content is available under
CC-BY-SA
unless otherwise noted.