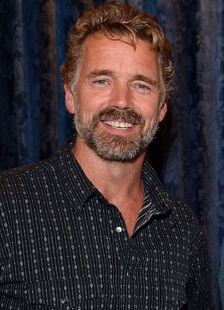 John Schneider is the actor who plays Jonathan Kent in Smallville. He was born on 8 April 1960, in Snellville, Georgia. As the legend goes, when John auditioned for the role of "Bo Duke" on the popular television series The Dukes of Hazzard, the producers were looking for a 24-year-old from the South.
John was also the co-founder of the Children's Miracle Network which holds telethons every year to help children's hospitals. He's also a strong supporter of family-orientated programming.
Career
John Schneider has starred in six television series, including the latest sensation, Smallville; five mini-series; four feature films; one soap opera; 14 movies; and two of his own television specials, not to mention the many guest starring roles and appearances which he has made on other television shows. A highlight of John's career was the successful move he made from a television "Duke" to a Broadway "Baron" in the provocative Tony Award-winning musical Grand Hotel.
John has a wide diversity of talents and is known world-wide for his roles as an actor and singer, but the role that he holds dearest to his heart is that of being a daddy to his three children. A native of Mt. Kisco, New York, the Schneider family currently lives just outside of Los Angeles.
Schneider starred for six seasons as one of the fast-driving, fun-loving cousins of the Duke clan on the hugely popular '80s comedy-adventure series The Dukes of Hazzard. He reprised his beloved role in the television movies The Dukes of Hazzard: Reunion! and The Dukes of Hazzard: Hazzard in Hollywood. Schneider was also a series regular on the family drama Dr. Quinn, Medicine Woman and the syndicated drama Heaven Help Us.
Recently, Schneider directed and starred with Cynthia Gibb in the original television movie Mary Christmas, which premiered December 2002. He has also has appeared in numerous other original television movies, including Michael Landon, the Father I Knew, True Women, Night of the Twisters, The Legend of Ruby Silver, Texas, and Desperate Journey.
Quick Facts
His astrological sign is Aries.
John is 6' 3".
John Schneider raises Alpacas.
John married Elly Castle on July 11, 1993.
John's parents divorced when he was two and he began acting at the age of eight.
Trivia
Not only did John Schneider star in Smallville, he directed Season Three's Talisman.
An interview with John Schneider can be found in Issue 6 of Smallville.

In the Issue 7 story "Parenthood", Jonathan is listening to an unspecified song by John Schneider.

On November 12, 2004, John was an honoree at the 7th Annual Silver Spur Awards show by the Reel Cowboys, an organization dedicated to the western heritage.
John races cars every May in the 'Silver State Classic Challenge' held in Ely, Nevada. He is the driver of a model of the 'General Lee' with fellow actor friend, James Caviezel, who is the navigator.
He was once married to former Miss America Tawny Elaine Godin.
In 1998, John founded Canan Film Works with John Agoglia and Tony Fantozzi.
He also appeared in the off-Broadway play The Civil War as a Confederate soldier.
He and Tom Wopat performed "Carryin' On" together, The Dukes of Hazzard: Reunion theme song.
He is a born-again Christian.
John Schneider was the first member of the Smallville cast to direct an episode. He would be followed in that tradition by Tom Welling, Michael Rosenbaum, Allison Mack and Justin Hartley. Tom Welling holds the most directorial credits of any of them with 5 episodes so far.
Schnieder also portrayed Tina Greer (posing as Jonathan) in Season 2's Visage, Brainiac (posing as Jonathan) in Season Five's Oracle and an alternate reality Jonathan Kent in Season Ten's Kent.
It was actually Schnieder who convinced the writers to write his character in the fortress scene giving Welling the suit in Finale, Part 2, " John Schneider came in... he wasn't originally in the Fortress, and it was his idea, saying 'I really want to be there with the suit.' Everyone loved that idea, but that was generated by him. 'I really want to give Clark the cape,' was what John Schneider said. Everyone loved that. But it wasn't the original idea, and John really made that happen." -Greg Beeman (Source=[[1]])
In the Superman The Animated Series episode "New Kids in Town" (which premiered in 1998), Lana comes over to talk with Clark. Wanting to give them some privacy, Martha tells Jonathan that Dukes of Hazzard is on.
Filmography
"Entertainment Tonight" .... Himself (3 episodes, 2007-2008)
... aka E.T. (USA: informal title) ... aka ET Weekend (Australia: weekend title) ... aka Entertainment This Week (weekend title) ... aka This Week in Entertainment (USA: weekend title)
   - Episode dated 28 April 2008 (2008) TV episode .... Himself
   - Episode dated 31 December 2007 (2007) TV episode .... Himself
   - Episode dated 23 October 2007 (2007) TV episode .... Himself

Mother Goose Parade (2007) (TV) .... Himself
"The Graham Norton Show" .... Himself (1 episode, 2007)
   - Episode #2.7 (2007) TV episode .... Himself

"TV Land Confidential" .... Himself - Interviewee (1 episode, 2007)
... aka TV Land Confidential: The Untold Stories (USA: second season title)
   - Locations (2007) TV episode .... Himself - Interviewee

2007 Camie Awards (2007) (TV) .... Himself
"CMT Insider" .... Himself (6 episodes, 2005-2007)
   - Episode dated 26 May 2007 (2007) TV episode .... Himself
   - Episode dated 5 May 2007 (2007) TV episode .... Himself
   - Episode dated 15 July 2006 (2006) TV episode .... Himself
   - Special Edition: The Dukes of Hazzard (2006) TV episode .... Himself
   - Episode dated 12 March 2005 (2005) TV episode .... Himself
     (1 more)

Smallville: 100th Episode -The Making of a Milestone (2006) (V) .... Himself
"My First Time" .... Himself (1 episode, 2006)
   - Action Heroes (2006) TV episode .... Himself

"Hi-Jinks" .... Himself (1 episode, 2006)
   - The Panda Did It (2006) TV episode .... Himself

"Rodney" .... Himself (1 episode, 2006)
   - Celebrity (2006) TV episode .... Himself

CMT: The Greatest - 20 Greatest Country Comedy Shows (2006) (TV) .... Himself - Host
The 4th Annual TV Land Awards (2006) (TV) .... Himself
TV Guide Specials: TV Families (2005) (TV) .... Himself
"TV Land's Top Ten" .... Himself (5 episodes, 2004-2005)
   - Sexiest Men (2005) TV episode .... Himself
   - Greatest TV Romances (2005) TV episode .... Himself
   - Perfect 10's the Women (2005) TV episode .... Himself
   - Wacky Neighbors (2005) TV episode .... Himself
   - Top 10 TV Cars (2004) TV episode .... Himself

Bo, Luke & Daisy: Just Good Ole Friends (2005) (V) .... Himself
"Inside Fame" .... Himself (1 episode, 2005)
   - Dukes of Hazzard (2005) TV episode .... Himself

TV Guide CloseUp: Behind the Scenes of 'Smallville' (2004) (TV) .... Himself
'Smallville' Backstage Special (2004) (TV) .... Himself
The 20th Anniversary Hazzard County BBQ (2004) (V) .... Himself
"SoapTalk" .... Himself (1 episode, 2003)
   - Episode dated 10 December 2003 (2003) TV episode .... Himself

Superman: The Early Years (Behind the Scenes of Smallville) (2002) (TV) .... Himself
"Extra" .... Himself (1 episode, 2001)
... aka Extra: The Entertainment Magazine (USA)
   - Episode dated 16 October 2001 (2001) TV episode .... Himself

Honey, I'm Pregnant Too! A Pregnancy Guide for Men (1999) (V) .... Host
Entertainment Tonight Presents: The Dukes of Hazzard - The Untold Story (1999) (TV) .... Himself
"Ordinary/Extraordinary" (1997) TV series .... Host (unknown episodes)
A '70s Celebration: The Beat Is Back (1993) (TV) .... Himself
Live: The World's Greatest Stunts (1990) (TV) .... Host
"Hee Haw" .... Himself (5 episodes, 1982-1987)
   - Episode #19.8 (1987) TV episode .... Himself
   - Episode #18.21 (1987) TV episode .... Himself
   - Episode #18.17 (1987) TV episode .... Himself
   - Episode #14.20 (1983) TV episode .... Himself
   - Episode #14.7 (1982) TV episode .... Himself

"The New Hollywood Squares" .... Himself - Guest (1 episode, 1987)
   - Episode dated 20 April 1987 (1987) TV episode .... Himself - Guest

Academy of Country Music's 20th Anniversary Reunion (1986) (TV) .... Himself
The 11th Annual American Music Awards (1984) (TV) .... Himself - Presenter
"Solid Gold" .... Himself (2 episodes, 1981-1983)
... aka Solid Gold in Concert (USA: new title)
   - Episode dated 27 August 1983 (1983) TV episode .... Himself
   - Episode dated 19 December 1981 (1981) TV episode .... Himself

"Madame's Place" .... Himself (1 episode, 1982)
   - Episode #1.41 (1982) TV episode .... Himself

The 54th Annual Academy Awards (1982) (TV) .... Himself - Performer
Night of 100 Stars (1982) (TV) .... Himself
The 39th Annual Golden Globe Awards (1982) (TV) .... Himself
Kraft Salutes Walt Disney World's 10th Anniversary (1982) (TV) .... Himself
... aka Walt Disney World's 10th Anniversary (USA: short title)
Full Circle (1982) (TV) .... Himself
"The Midnight Special" .... Host (1 episode, 1981)
   - Episode dated 13 March 1981 (1981) TV episode .... Host

"Barbara Mandrell and the Mandrell Sisters" .... Himself (1 episode, 1980)
   - Episode #1.1 (1980) TV episode .... Himself

John Schneider: Back Home (1980) (TV) .... Himself
Kraft Salutes Disneyland's 25th Anniversary (1980) (TV) .... Himself
Circus of the Stars #4 (1979) (TV)
"Family Feud" .... Himself (2 episodes)
... aka Family Fortune (UK) ... aka The Best of Family Feud (USA: reissue title)
   - Dukes of Hazzard vs. Angie (????) TV episode .... Himself
   - Dukes of Hazzard vs. The Waltons (????) TV episode .... Himself

Promotional Picture Gallery