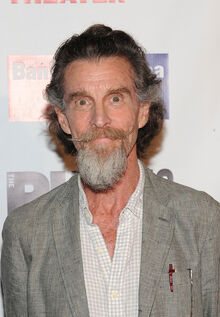 John Glover (born August 7, 1944 in Salisbury, Maryland) is an American actor, best known for a range of villainous roles in films and television, including Lionel Luthor in Smallville.
Career
John Glover is mostly known for playing a number of villainous characters on television and films. He's made numerous appearances on stage, and has even won a Tony Award for "Featured Actor in a Play" for his role in "Love! Valour! Compassion!" which he did again in the film version. He splits his time among Maryland, Los Angeles and Vancouver. Trying to increase the awareness for Alzheimer as well as raise much-needed funds for a cure, he dedicates his time to the Alzheimer's Association. He also funds a scholarship for actors at his alma mater, Towson University, and returns to teach classes in his free time. Other roles include General Charles Lee in George Washingtion, Bryce Cummings in Scrooged, Daniel Clamp in Gremlins 2: The New Batch, a mobster in Payback, The Riddler in Batman: The Animated Series, Doctor Jason Woodrue in Batman and Robin, the Devil in Brimstone, and Verad in the Star Trek: Deep Space Nine episode "Invasive Procedures". He has also made notable appearances on stage, winning a Tony Award for Featured Actor in a Play for his dual roles in the Broadway play Love! Valour! Compassion!, which he reprised in the film version. He also had a small but unforgettable appearance in the Woody Allen film Annie Hall. In a flashback to a scene from Annie Hall's past he utters the line: "Touch my heart. With your foot".
Quick Facts
He graduated from Towson State Teacher's College.
He received an Honorary Masters degree.
His astrological sign is Leo.
He is 6' 1".
He frequently plays villains.
He is openly gay.
He is left handed (as is Michael Rosenbaum)
Trivia
John Glover appeared as Lionel Luthor as a special guest star during Season One, then as a main character from Season Two to Season Seven and back to a special guest star as an alternate reality doppelganger in Season Ten.
An interview with John Glover can be found in Issue 5 of Smallville.
He guest starred in Law & Order: Criminal Intent during both the 6th season premiere and the 7th season finale.
Glover was recently interviewed by MediaBlvd Magazine.
Glover's new play Some Men premiered at the Philadelphia Company Theatre on June 11, 2006.
Glover offered to have his head shaved when Lionel went to prison as long as it was aired.
He received another Emmy nomination for his role in Nutcracker: Money, Madness & Murder.
Every year he auctions off Smallville items on eBay to raise money for Alzheimer's. It's been a big success for the 3 years he's been doing it.
In 1981, he appeared in The Incredible Shrinking Woman as Tom Keller, along with Ned Beatty (the man that played the Superman: The Movie version of Otis Berg) who played Dan Beame. The film was also the directing debut of Joel Schumacher, whom Glover later worked with on Batman & Robin.
He provided the voice for The Riddler in Emmy Award-winning series Batman: The Animated Series.
Glover played Doctor Jason Woodrue in the super-hero movie Batman & Robin.
In Season Four's Transference, during the prison fight and raid involving Lionel, John did not use a stunt man, choosing to act out the stunts himself. The stunt man stood by ready but was never used.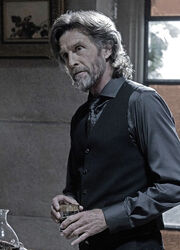 Filmography
External links