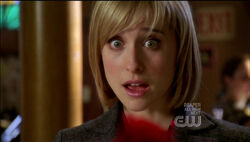 Searching
Characters
Characters are listed by first name and then last name (if known). Superheroes with codenames are listed under their "normal" name the same way, but there is probably a redirect from their codename. Use correct capitilization and punctuation in your search criteria for best results.
Episodes
Episodes are listed by their official names. Simply type just the episode name, using correct capitalization and punctuation.
Images
Searching for images is difficult because it only pulls it up if your search criteria is actually part of the image file name. However, most of the pictures on the Wiki are now categorized by season. The screencaps are listed on the category pages in order of episode airdate. To find an image, click the season it's from and scroll to where other images from that episode are.
Templates
A list of Templates that are in use on this wiki can be found here.
Other
If your search object sometimes has the word "The" before it, try adding it to the search criteria for better results.
Feel free to leave any additional questions on any Talk pages.
To start a new page, use the box below. Just enter the title of the page you want to create:
Community content is available under
CC-BY-SA
unless otherwise noted.