Greg Beeman was a producer and director of
.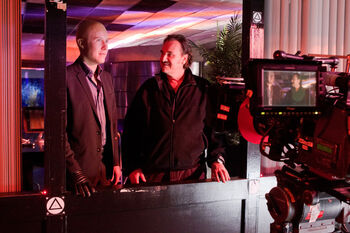 He directed the following episodes:
Season One
Season Two
Season Three
Season Four
Season Five
Season Nine
Season Ten
Notes
Greg directed at least one episode in each of the first five seasons of Smallville.
Greg directed the season finale to six seasons, including the first four seasons of Smallville. He also directed the 100th episode, which is generally seen as a critical landmark in the life of any TV show.
Michael Rosenbaum personally thanked Greg Beeman in his goodbye letter, saying "I want to thank Greg Beeman for directing the "Oh Sherry" video, by Steve Perry, back in the 80's." [1]
Greg Beeman, along with Michael Rosenbaum, wrote and sold a script to 20th Century Fox.[2]
Beeman departed Smallville after season five. However, he returned to directed the finales of seasons nine and ten.
Greg Beeman stated that he continued watching the show until after season 7 because he had more going on then before but always stayed loyal and loved the show.[3]
Greg loved 4 things about the Finale, Part 2 more than anything and they were how they turned Tom into suit coming out of the ice and Jonathan Kent giving the suit to Clark.[4]
Trivia
Greg Beeman also directed the 2006 Aquaman pilot, starring Justin Hartley.
Greg Beeman also directed episodes of the television series Swamp Thing, Lucifer, Batwoman and Stargirl.
External links
References