Doctor Strange in The Multiverse o Madness - The Loop
Play Sound
Sheriff Ethan, Ethan Miller or Deputy Miller was a Deputy later promoted to the rank of Sheriff of Smallville.
Personality
He was good friends with the Kents and as a sheriff, was well-liked by the community. He served the community since at least the 1989 meteor shower through Suspect.
Season Two
In Season Two, Ethan was doing private work for Lionel Luthor. When Ethan couldn't reconcile Lionel's demands with his own conscience, he tried to break-off the relationship, but was threatened by Lionel. In order to "solve" the problem, he decided to murder Lionel and made the difficult choice to frame Jonathan Kent. Using the well-known tension between Jonathan and Lionel, Ethan had Jonathan drugged at the Wild Coyote and then laid out circumstantial evidence that initially lead to the arrest of Mr. Kent. In the end, Ethan's plot was uncovered by Clark and Pete, and Ethan was himself incarcerated for the attempted murder of Lionel Luthor and the murder of the Coyote's bartender, thus ending his term as sheriff. He now serves in prison for murder and attempted murder.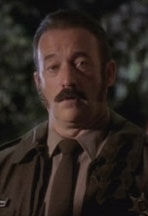 Appearances
1
2
3
4
5
6
7
8
9
10
11
12
13
14
15
16
17
18
19
20
21
22
23
#
Season 1
-
-
-
X
-
X
-
X
X
-
-
X
-
X
-
-
-
-
-
X
-
N/A
7
Season 2
X
X
-
-
X
-
X
X
-
X
-
-
X
-
-
-
-
-
-
-
-
-
-
7
Total
14
Notes