Doctor Strange in The Multiverse o Madness - The Loop
Play Sound
| | |
| --- | --- |
| | This page needs to be cleaned up. Please improve this page in any way that you can. For tips on improving this article, read other articles of the same type and be familiar with editing conventions on the Smallville Wiki. Please remove this box after the article has been cleaned up. |
Erica Durance (born June 21, 1978 in Calgary, Alberta) is a Canadian actress. She is perhaps best known for her role as Lois Lane on Smallville, in which she also played Faora. Durance was born in Calgary, Alberta and was raised in Three Hills, Alberta. After graduating from high school, Durance moved to Vancouver, British Columbia, to pursue her interest in acting professionally.
On a set of Stargate SG-1, Erica Durance met actor David Palffy, who she unknowingly worked with in House of the Dead. The couple got married on January 8, 2005 and currently live in Vancouver. It's her second marriage, after divorcing Wes Parker in 1999. In 2004, Erica was cast as Lois Lane for Season Four of Smallville. Erica was promoted as a series regular for Season Five and remained part of the regular cast for the remainder of the series run.
Durance took on another DC Comics role on the 3rd Season of Supergirl taking over the role of Alura Zor-El from the previous actress Laura Benanti.[1] Durance also made a cameo as the Lois Lane of Earth-167 for the Arrowverse's Crisis on Infinite Earths Crossover.[2]
Career
Moving to Vancouver to start her acting career, Erica Durance got her early acting jobs on TV shows. She made her first big screen appearance in Jonas Quastel's true-story based action adventure The Untold (2002, a.k.a. Sasquatch, starring Lance Henriksen and Andrea Roth).
Durance followed it up with the next year's film project, Uwe Boll's horror House of the Dead, in which she played small role Johanna. In the film written by Mark A. Altman and Dan Bates, Durance shared the screen with Jurgen Prochnow, Clint Howard, Ellie Cornell, Ona Grauer and Jonathan Cherry. That same year, Durance also costarred with Joe Lando and Nicole Eggert in the action drama TV movie helmed by Gilbert M. Shilton, Devil Winds, playing Kara Jensen.
Following her appearances in films, Durance was invited to guest star in such shows as The Chris Isaak Show, the teen sci-fi drama Tru Calling (starring Eliza Dushku), Andromeda (starring Kevin Sorbo) and Entertainment Tonight. She also appeared on an episode of the long-running sci-fi series Stargate SG-1 (starring Richard Dean Anderson), "The Collector" (starring Chris Kramer) and "Extra".
Durance began received attention while playing the recurring role of young Lois Lane on the hit WB teen series Smallville. She became a guest-star for the fourth season of the show (2004-2005), starring in 13 out of 22 episodes. The 26-year-old actress was eventually asked to become a regular in the Superman's early years drama series in its fifth season and became the main female lead in the tenth and final run of the series.
At the end of Smallville in 2011, Erica was as cast as the starring female leading lady Alex Reid in the Canadian medical drama Saving Hope which has been pick up as a fall drama series on the Canadian network known as CTV Erica is also the executive producer of the series. Erica made special guest appearance as a CIA Operative named Samantha Masters in Alfred Gough and Miles Millar's 2011 remake series, Charlie's Angels on ABC. She also guest starred on David E. Kelley NBC's Harry's Law as a woman who believes herself to be Wonder Woman; the episode aired January 11, 2012.
For its third season, Erica took over the role of Alura on the television series Supergirl.
Quick Facts
Her astrological sign is Gemini.
She is 5'8".
She is left-handed.
She has an older brother and an older sister.
Trivia
An interview with Erica can be found in Issue 10 of Smallville.
MSN TV has compiled a list of the top 25 Fall TV Hotties that viewers should look out for and Erica is one of their choices. [citation needed]
Erica's eye color is green.
As a teenager, Erica had braces on her teeth. [citation needed]
Erica has been nominated in The 32nd Annual Saturn Awards 2006 for Best Supporting Actress On Television for her role in Smallville. [citation needed]
Erica is on the front cover of the September/October 2006 issue of Sally Beauty.

She was named #38 in FHM (US) magazine's "100 Sexiest Women in the World 2006" supplement.(2006).
She was named #20 in FHM Online's "100 Sexiest Women in the World 2007" supplement (2007).
She was named #15 in FHM Online's "100 Sexiest Women in the World 2008" supplement (2008).

Erica is the sister-in-law of Jeff Judge, the younger brother of Stargate SG-1 star Christopher Judge.
Erica played the lead role in the movie Stranded.
Erica played three different characters during the fourth season of Smallville; Lois Lane, Brianna Withridge ("Spell") and Dawn Stiles possessing Lois' body ("Spirit").
Erica played three different characters in the eighth season of Smallville; Lois Lane, Faora possessing Lois' body ("Bloodline"), and Chloe transformed into Lois ("Hex").
Erica played two different characters in Season Nine of Smallville; Lois Lane, and the Silver Banshee possessing Lois' body ("Escape").
Erica played two different characters in Season Ten of Smallville; Lois Lane, and the ancient Egyptian Goddess Isis possessing Lois' body ("Isis").
"Dominion" is the 100th episode appearance of Erica Durance as Lois Lane in the series.
Erica has been seen wearing the costume of Wonder Woman once in Smallville "Warrior" and Harry's Law "Gorilla My Dreams."
By the end of Season 10, Erica Durance had played Lois Lane for the longest, continuous period (2004 to 2011), a position shared by her co-star Tom Welling as Clark Kent/Superman.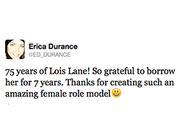 Erica Durance along with two other famous actress that have portrayed Lois Lane in media over the years Teri Hatcher and Dana Delany took part in an online twitter event April 18, 2013 to build up an awareness to the seemingly poor lack of DC Comics promoting Lois Lane's importance in the 75th Anniversary of Superman this year. Their contribution as well as the support of a very vocal and strong fanbase inspired DC Comics to move into action by not only acknowledging Lois importance to the mythology but being apart of the celebration to that end DC announced a special collectors edition comic that came in November 27, 2013 Lois Lane: A CELEBRATION OF 75 YEARS that was dedicated to all the actresses that have portrayed the character over 75 years.
Filmography
Television series
Batwoman (2019) episode "Crisis on Infinite Earths: Part 2"....Lois Lane
Supergirl (2017 - 2019)....Alura Zor-El
Saving Hope (2012 -)....Dr. Alex Reid
Harry's Law (2012) episode "Gorilla My Dreams" .... Annie Bilson/Wonder Woman
Charlie's Angels (2011) episode Angels in Chains .... Samantha Masters
Smallville (2004-2011) .... Lois Lane and Faora
Stranded (2006) .... Carina
Andromeda (2004) episode "Time Out of Mind" .... Amira
The Collector (2004) episode "Another Collector" .... Rachel Slate
Tru Calling (2004) episode "Drop Dead Gorgeous" .... Angela Todd
Stargate SG-1 (2004) episode "Affinity" .... Krista James
Devil Winds (2003) .... Kara Jensen
Films
Beyond Sherwood Forest (2009) (TV movie) .... Lady Marian
Final Verdict (2009) (TV movie) .... Megan Washington
The Building (2009] (TV movie) .... Erica Durance
I Me Wed (2007) (TV movie) .... Isabelle Darden
Stranded (2006) (TV movie) .... Carina
The Butterfly Effect 2 (2006) .... Julie Miller
111 Gramercy Park (2003) (TV movie) .... Maddy O'Donnel
House of the Dead (2003) .... Johanna
The Untold (2002) .... Tara Knowles
Episodes
Erica Durance appeared in thirteen episodes per season; however, due to the Writers' Strike, she only appeared in 12 episodes in Season 7, and for an unknown reason, she only appeared in 12 episodes in Season 8 as well. In Season 9, though, she appeared in 18 episodes. In Season 10, she appeared in all 22 episodes.
Promotional Picture Gallery
Pictures taken from Mundo Smallville
External links
References