Jurassic World: Dominion Dominates Fandom Wikis - The Loop
Play Sound
"Descent" is the sixteenth episode in the seventh season of Smallville, and the one hundred-forty-eighth episode overall. It aired on April 17, 2008.
Summary
The secret of Veritas leads Lex in a dangerous direction that puts Clark and Lex in each others' crosshairs.
Recap
→ see also Category:Screencaps from episode 7x16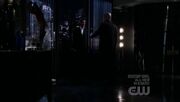 At LuthorCorp, Lionel enters his office to find Lex there waiting for him. Lex asks him about the Traveler, which Lionel says are lies that Patricia Swann made up.
Lex says that it was no accident that Lionel moved to Smallville the day of the meteor shower and that he was there to meet the Traveler. Lex says his life changed forever that day, and wants to know who the Traveler is; Lionel thinks fast and tells him that Lex himself is the Traveler. Lex says he is lying and that, when he opens the box in Zurich, all his questions will be answered. He then pulls a gun on Lionel, who pleads with him, and asks Lionel for the second key before shooting the window behind Lionel. Lex tells Lionel he searched everywhere and realized Lionel would only trust himself. Lex says he was raised in his father's shadow and now Lionel would die in his son's and that nobody will remember his name. Lex then pushes Lionel out of the window to his death.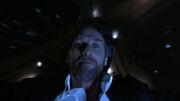 At the Daily Planet, Clark and Chloe are looking for Brainiac and Kara by looking at power surges, when there is a commotion and Lois enters and says that Lionel jumped out of his office window; Clark and Chloe go to see. They leave the Daily Planet and go across the street to see a crime scene where Maggie Sawyer asks Lex to identify the body. Lex moves away from the body and sees his younger self in a vision who says, "You killed Dad." Lex then regains focus and sees Clark looking at him accusingly. He walks away from the scene quickly, and Clark walks beside him; the two are separated by the crowd and the crime scene tape. Chloe catches up and tells Clark about Lionel's behavior that night. Clark confirms that Lionel wanted to give him a locket earlier, but Clark ignored him.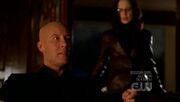 In the mansion, Gina comes to see Lex and says she's sorry to hear about Lionel. Lex tells Gina about how Lionel took him to the Air and Space Museum in Washington, D.C., and that he loved things that could fly and that Lionel told him that the right man can make anything possible. Gina puts her hand on Lex's shoulder and notices the locket, telling Lex that Lionel was cruel and sadistic and that nobody will ever know Lex killed Lionel. She takes the locket and sees the locket is empty. Lex says Lionel gave it to somebody and blames Gina, who was spotted in the basement of the Daily Planet. He tells her to get the helicopter ready. After Gina leaves, Lex's younger self appears again and tortures Lex about killing Lionel. Lex gets angry and says he had no choice, throwing a whiskey bottle into the fire where his younger self was standing.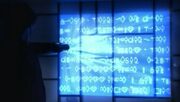 Clark sneaks into Lionel's office to look at the crime scene and breaks into the vault to look for the locket. He notices many items before finding a box with Kryptonian symbols on it that lights up when Clark touches it. The symbols read: "For Kal-El, in the event of my death." Clark activates the device, and a Kryptonian message appears from the end of the box. Lionel's voice is heard, delivering a message for Kal-El that he cannot protect Clark anymore. He explains to Clark about the two lockets and that there is a way of controlling Clark and that he must save himself.
Lois enters the Daily Planet's photographic archive to find Jimmy looking at a picture of Lionel in Lex's office. Lois slates Jimmy for wanting to stay and search Lex's office, and Jimmy tells Lois that they have proof of Lionel's death by zooming in on a spot in the image that shows Lionel being pushed out of the window. Lois tells him to zoom in more, but Jimmy says his computer isn't powerful enough, though the computers at the Isis Foundation will be perfect. Jimmy says they will tell Chloe because they need her skills.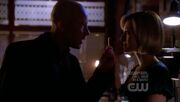 Chloe enters the basement and goes through her desk drawer, where she finds an envelope with the Kryptonian symbol for "S" on it; the key Lionel left for Clark drops out of the envelope. When she sees Lex coming, she quickly destroys the envelope and puts the key in her drawer. Lex asks Chloe for the key, but Chloe denies she has it and that she should check her desk. Lex then checks the drawer himself and Chloe denies she knew it. Lex questions Chloe about the key, but she says she doesn't know what it is for. Lex then fires Chloe, and security escorts her out without a chance to clear her things. Gina enters and tells Lex to go back to the mansion while she will clear up Chloe's things. She finds Chloe's cell phone in her drawer and reads a text message from Jimmy to meet up, because they have evidence that Lionel was murdered.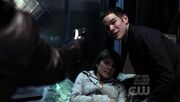 Lois and Jimmy are waiting for Chloe when Gina enters. She pulls a gun on Lois and Jimmy, and takes them down to the kitchens where they try and tell her that they wanted to delete it, but Gina says they are lying and that she wants to know where they sent the image. Lois tries to attack her, so Gina shoots her and asks again for the image's location. Jimmy finally tells her and she locks them in the freezer. Jimmy rests Lois down and tries banging on the freezer door.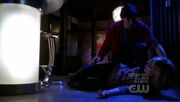 Chloe is at the Isis Foundation when Clark enters and tells Chloe about the message Lionel left for him and that the keys are the secret. Chloe says that Lionel left one of the keys for Clark in her desk, but Lex took it. Clark realizes that Lex killed Lionel for the key and super-speeds off. He arrives at the mansion and looks for the key, but the locket is empty. Lex interrupts Clark and tells him to leave, but Clark says he isn't going anywhere. Lex's younger self is seen again and tells Lex to tell Clark that he killed Lionel, but Lex ignores him and tells Clark that their fathers were alike. Clark asks Lex about how Lionel died, but Lex avoids the questions and says that Lionel and Jonathan both thought Clark was the perfect son. Lex says then when he first met Clark, he inspired him but he turned his back on him. Clark says it is his (Lex's) own fault for wanting power and control. Lex says that somebody had to take control because of the alien symbols and the strange occurrences that have happened in Smallville. He then asks Clark why Lionel would turn to a simple farm boy and why Jonathan was so stressed all the time trying to raise the perfect son, and blames Clark for Jonathan's death. An angry Clark then tells Lex he is going to own up to killing Lionel, but Lex says Clark is delusional. Clark says he has proof.
At the Isis Foundation, Chloe is trying to enlarge the image to find Lionel's killer. Just as she sees Lex in the photograph, Gina comes from behind her and knocks Chloe out, then deletes the image with a virus. She hears Clark coming and hides. Clark finds Chloe on the floor, and Chloe tells Clark she saw Lex in the photo. She asks about the key and tells him that if Lex has both keys, he can control Clark. Clark asks where Lois and Jimmy are. Chloe doesn't know, so Clark says he is going to find them and super-speeds away, with Gina watching.
In the freezer, Jimmy is talking to Lois, unsuccessfully trying to keep her conscious. Clark uses his super hearing to find them, and super-speeds to the freezer. Jimmy has passed out, so Clark warms both him and Lois up with his heat vision. Jimmy awakens just after Clark speeds away.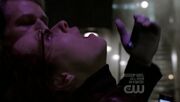 Gina is leaving the Isis Foundation, leaving a message on Lex's phone saying she knows who the Traveler is, when an unknown man comes from behind her and poisons her. The assailant places Gina in her car and starts the engine before leaving her dead.
At the mansion, Lex is telling one of his people to get the jet ready for Zürich after the funeral. Lex's younger self appears to him again, and tells Lex that he will always be there and that there is still good inside of him, and not to go to Zürich. Lex says he has to go and that it is all he has left. Young Lex says that he has him, but Lex says he is done listening and drags his younger self down the stairs and in front of the fire. Lex tells his young self that he makes him weak, and then throws him into the fire.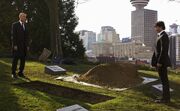 Clark is in the loft contemplating a picture of Jonathan and the message from Lionel when Chloe enters and tells him that Lionel's funeral is closed off to everybody but Lex. Clark tells Chloe that every father figure in his life died because of him: Jor-El putting him in the ship, Jonathan taking on Kryptonian superpowers to bring him back from Metropolis, and Lionel protecting his secret. He asks Chloe how can a son murder his own father, and Chloe replies that it is total absence of love. Chloe also tells him that he must get the keys away from Lex. Clark says he won't let Lex kill anyone else.
Lex is standing over Lionel's grave alone when Clark arrives. Lex responds by secretly and briefly smiling, suggesting he was happy Clark showed up. Clark stands opposite Lex, and they exchange stares but do not speak. Lex walks past Clark, and Clark sprinkles a handful of soil into Lionel's grave.
Cast
Starring
Guest Starring
Co-Starring
Don Broatch as Mysterious Attacker
Shaw Madson as Lex's Henchman
Title
Descent refers to a downward inclination or slope.
The title refers to two major falls in the episode. First, Lionel Luthor falls 40 stories to his death. Also, Lex Luthor completes his fall into darkness.
Descent also refers to one's ancestry. The title refers to the two main father and son relationships and how even Lionel thought of Clark as a son. Both fathers thought Clark was the perfect son (descendant) while Lex was not.
Notes
Antagonist: Lex Luthor and Gina
Clark's Abilities: Super-Speed, Super-Hearing, Heat Vision
This is the last appearance of Lionel Luthor as a series regular.
This is the 7th and final appearance of Gina and the only time her actress, Anna Galvin, receives "Guest Starring" billing after the opening credits. She is tied with Dr. Harden, Adam Knight, Grant Gabriel, Jeff Hage, and Faora (clone) as the 10th most frequently seen recurring character in the series after Jor-El, Nancy Adams, Brainiac, Emil Hamilton, Ethan Miller, John Jones, Nell Potter, George, and Helen Bryce. Gina, Dr. Harden, Adam, Grant, Jeff, and Faora are the most frequently seen recurring characters in the series who are tied with each other in the number of episodes they appeared in.
In this episode, Lex completes the cycle of patricide by killing his own father Lionel who killed his father in order to collect the insurance money years ago.
Lex tells Lionel that there's only one person he would trust the key with: himself. That's proven to be untrue: as the emissary of Jor-El, Lionel was willing to trust Clark's friend Chloe with the key.
Clark finds a message from Lionel in his LuthorCorp safe. There is a Kryptonian message on it that Clark translates out loud as, "For Kal-El in the event of my death." The actual written message in Kryptonian translates as, "For The Tarveler" (presumably, a misspelling of "Traveler").
The message projected on the wall in Kryptonian is actually an abridged version of the dialogue that Lionel speaks in the voice-over. Although difficult to read, the portions that are visible contain fragments from the message spoken aloud.
Lionel's death was originally supposed to be the cliffhanger ending of Veritas, but was moved to this episode after the resolution of the Writer's Strike.[1]
Lex fires Chloe from the Daily Planet. He previously fired Chloe's father Gabe Sullivan from the Smallville Fertilizer Plant in Season Three's Whisper.
Lois and Jimmy's scenes in the freezer mirror the scenes in Lockdown in which Lana and a wounded Lex are trapped in an overheated panic room.
Lionel's grave scene where Lex and Clark stand opposite each other could be interpreted as a final showdown between the two. When Jonathan Kent died in Season Five's Reckoning, Lex was seen far from the site watching. Ever since, he has come closer and closer to Clark until now when Clark's last father figure dies. Lex finally faces his archenemy.
Although Lionel briefly appears in a flashback in Season Ten's Abandoned, this episode is John Glover's final appearance as the character.

Glover reprises his role as Lionel in season 10's Luthor, Scion, Beacon, and Finale, though it is a Lionel from an alternate dimension.
In Other Media
The last words of Lex for Lionel were: "No one will remember your name." This is perhaps a reference of the comics where Lex's father doesn't play an important role and is only occasionally seen or mentioned.
Continuity
Locations
Quotes
---
---
---
---
---
---
---
---
References
↑ Smallville Season 7 The Official Companion
External links