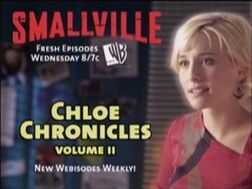 The Chloe Chronicles, Volume Two in the form of original comics and video, focused on Chloe uncovering the truth behind the death of Sarah Strossberg, a journalism student at Met U. Chloe discovered that Donovan Jamison has been experimenting on the bodies of metahumans, including Sean Kelvin, Greg Arkin, and Tina Greer.
Video One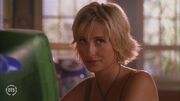 Opening up with the ending scene of Chronicle (from Smallville #7), Chloe receives an email from Dr. Walsh the former genetics professor she interviewed at Edge City High in Video Two. She is apprehensive about opening it, but Chloe never turns away from a mystery. The email contains a video message from Dr. Walsh. He was working in a lab and afraid for his own life. He asked Chloe to find his family. Chloe tries to trace the email but it was bounced off so many servers that it is untraceable. Further searches for Dr. Walsh and his family turned up no result at all. Someone has tried to delete them completely.
Video Two
Chloe finds Mrs. Walsh and goes to her house. She shows her and her ten-year-old son Max the video she received. It contains a message just for them. He tells them that whatever they heard about his disappearance was a lie, and Chloe can tell them what really happened. He tells them that he loves them, and he tells his son to "take his lucky lure and go catch that big monster fish they never managed to catch together." After the video, Max says they never went fishing together. Chloe finds the tackle box and Max points out the lucky lure. Inside, Chloe finds a computer chip and when she plugs it in to her handheld computer, she receives a coded message: GHOST NECK SS 942565362509.
Video Three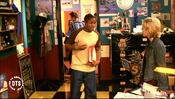 Back at the Torch, Chloe and Pete are trying to crack the code. Pete gets a call from his mother who explains that Ghost Neck is what the teens used to call the cemetery because they used to go there to neck with the ghosts. At Longneck Cemetery, Chloe finds Earl Jenkins' tombstone. She checks the coded message again and discovers that the numbers in the message almost match the GPS coordinates of the grave site. She walks across the cemetery and finds the grave of Sarah Strossberg matches the coordinates exactly. SS stands for Sarah Strossberg. Back at the Torch office, Chloe discovers that Sarah was a Smallville resident who went to Met U and wrote a few articles about the meteor rocks before she disappeared. Her body was found alongside the highway in unincorporated Lowell County.
Video Four
Dr. Donovan Jamison, CEO of NuCorp (see Video Three above), has been indicted on charges of corporate treason. His secretary Rebecca Jones is suspected of fabricating the charges, but Jamison believes that someone else put her up to it. The board asked him to resign from NuCorp, and Jamison pled guilty to lesser charges. He lost his pension and hasn't been seen since. Next, Chloe goes to see Rebecca Jones. She's been promoted to vice president of operations at NuCorp in Dr. Jamison's absence. Her door is adorned with the mysterious green logo seen in Video One. Ms. Jones is not eager to speak with her, but Chloe has discovered that Ms. Jones was awarded the Sarah Strossberg scholarship for excellence in journalism at Metropolis University at about the same time she was working for Donovon Jamison. Ms. Jones states that Jamison told her that he admired Sarah's articles. They became friends when he was teaching at Metropolis University. Chloe leaves, stating that she hopes that NuCorp adopts less life-threatening research protocols.
Video Five
Chloe visits retired Sheriff Mark "Wink" Waid, the investigating officer who caught the Strossberg case. He has a theory that all the weird stuff he saw as sheriff was the result of people watching too much television and not spending enough time enjoying the great outdoors, but he does remember finding Sarah's body on Old Loeb Bridge Road. He says they didn't investigate the case as foul play because the coroner's report said the cause of death was seizures. She had no history of epilepsy and the autopsy revealed nothing. Sheriff Waid doesn't want to talk about it anymore until Chloe offers him a fresh pouch of tobacco for his pipe. Then he remembers that she had strange red algae all over her clothes and under her nails. The only spot with a red algae bloom that season was a little crater pond deep in Burnham Woods. Chloe asks him to give her a map so she can find this pond.
Video Six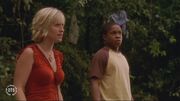 Pete and Chloe hike through Burnham Woods in search of Sheriff Waid's crater pond. They are being followed. After more than an hour, Pete gets bored and heads off on his own. Chloe catches up with him at the pond but after just a few minutes, he disappears again. Suddenly, someone grabs Chloe, throws her to the ground and takes her camera.
Video Seven
After Pete and Chloe escape from the burning laboratory, Lionel Luthor drives up in his limousine. They tell him that they are working on a school project just as the lab explodes. Lionel offers them a ride, but they decline. He threatens to call the authorities and Chloe threatens to expose his involvement in Sarah Strossberg's death. Lionel makes another threat using the same monster fish metaphor that Dr. Arthur Walsh used in his video to his son. When they return to the Torch office, Chloe summarizes that the secret lab was flooded when Wade's Pond drained into it after the explosion. Chloe suspects that Lionel Luthor has been after Dr. Jamison's research for a long time, so she not going to publish the story about the meteor freaks or their cure. It would be a disaster if Lionel Luthor were somehow able to gain the same powers that Dr. Jamison discovered. But she does write the story about Dr. Jamison's involvement in Sarah Strossberg's death, so that if he ever shows up again, there will be a warrant waiting for him.
Cast
Notes
Volume Two is included in the Smallville Season Three box set.
Volume Two originally aired for seven weeks from April 14 to May 26, 2004 online via AOL.
Community content is available under
CC-BY-SA
unless otherwise noted.