This article is about the television host known as Catherine Grant. For the Daily Planet reporter, see Cat Grant.
"This isn't live, is it?" Catherine Grant, Crossfire
Catherine Grant is the host for Good Morning Metropolis. She was Clark Kent's blind date.
Season Nine
"Congratulations. You're dating Mother Teresa in six-inch heels." Lois Lane about Catherine Grant.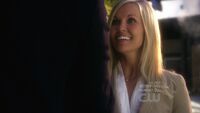 Clark is set up on a blind date with Catherine to cover the story of how blind dates work for Good Morning Metropolis. Cat was nervous because she did not have much experience in dating because she had a busy life and had little time to devote to these things. She had just come from abroad to Metropolis to do her PhD in Sociology and Social Justice at the same time.
After the date was over, Catherine was given the job as the host for Good Morning Metropolis.
Notes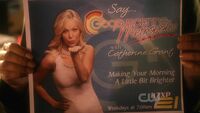 The producer have split the character of Cat Grant into two separate individuals, The Catherine Grant character that appears in Season Nine's Crossfire is from the comic story arc in which Cat becomes an on-air reporter at WGBS who eventually gets her own talk show, "The Cat Grant Show". Where as the Cat Grant that appears in Season Ten's Shield is a slight variation of the single mother Cat with a young son named Adam Morgan.
Catherine Grant's name was very similar to Cat Grant from the comics, suggesting that she was the Smallville version of the comic character. But her portrayal was the opposite of her typical characterization in the comics and television, suggesting that she wasn't the same character. In Season Ten, a new character named Cat Grant was introduced on the show. She alluded to the similarities of names herself, saying she was not the television host.
Appearances
Community content is available under
CC-BY-SA
unless otherwise noted.