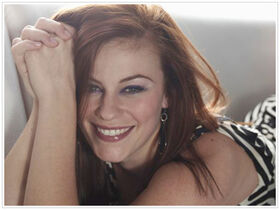 Cassidy Freeman is an American actress, born in Chicago Illinois, USA. She was portraying the role of Tess Mercer, Smallville's version of Lena Luthor, Lex Luthor's sister.
Quick Facts
Cassidy's older brothers Clark and Crispin are both actors. Crispin, also became involved with the Superman legacy when he portrayed Superman as a voice-actor in the video game Justice League: Heroes.
She took part in musicals.
Cassidy was a member of the Potomac Theatre Project, a theatre group at Middlebury College in 2004.
Cassidy has a bad habit of nail-biting.
Cassidy can speak the following dialects/accents: British (the specific British dialect unknown), Irish, Southern, and Midwestern. She is also fluent in Spanish.
Filmography
Smallville - Tess Mercer (2008-2011)
Cold Case - Laura McKinney
Starlet - Courtney
Austin Golden Hour - Charlie
Finishing the Game: The Search for a New Bruce Lee - Shirley
Razor Sharp - Veronica Sharpe
The Vampire Diaries - Sage (2012)
Longmire - Cady Longmire (2012-2017)
Once Upon a Time - Jack
Notes
Cassidy Freeman was set to appear in a pilot episode for Justin Hartley's new show but it was canceled setting her up for her Smallville appearance.
Cassidy is a teaching staff member of the Virginia Avenue Project, a non-profit afterschool program which aims to facilitate the overall growth of kids through the use of performing arts.
Her skills are dancing (jazz, ballet, modern, hip-hop), waterskiing, snowboarding, horseback riding, tractor/ATV/standard driving, and competitive volleyball and water-polo.[1]
Trivia
She has Native American, German, Scottish, Jewish and Estonian ancestry.
Cassidy along with her brother, Clark Freeman, and Andy Mitton formed the band called "The Real D'Coy".
She has a 50-pound Swiss Mountain dog named Shasta.
Her brother, Crispin Freeman, played Red Arrow in another DC related show, Young Justice. Crispin is also the voice of Martian Manhunter on Justice League Action and voiced Superman in the game Justice League Heroes.
Gallery
External links