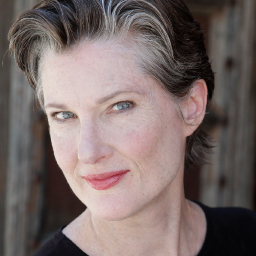 Annette O'Toole (born April 1, 1952) is the actress who plays Martha Kent in Smallville. In 1983, Annette played the role of Lana Lang alongside Christopher Reeve in Superman III. A big Superman fan, Annette came into the part of Martha to replace Cynthia Ettinger, who played her in the Smallville pilot.
Career
Annette was born in Houston, Texas, on April 1, 1952. Annette started dancing at the early age of 3. At 13, her family moved to Los Angeles and she began taking acting lesson at a very young age doing guest appearances in shows like
My Three Sons, The Partridge Family
, and
The Virginian
. Her first big break came when she starred in the 1975 feature film
Smile
as a conniving beauty pageant contestant. Since then, O'Toole has appeared on the big screen in
48 Hrs.
playing Nick Nolte's character's girlfriend, the 1982 remake of
Cat People
directed by Paul Schrader,
Here on Earth
with Chris Klein and Leelee Sobieski,
One on One
,
King of the Gypsies
,
Cross My Heart
and
Love at Large
.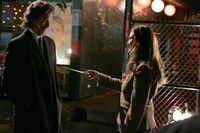 She has also done many theater productions. She had recurring roles in
Nash Bridges
and appeared on the USA Network series
The Huntress
during the 2000-2001 season. The song "A Kiss At The End Of The Rainbow," written for
A Mighty Wind
by Annette and her husband, was nominated for an Oscar. She has also been nominated for Emmys and Golden Globe Awards for her portrayal of Rose Kennedy in the television miniseries
The Kennedys of Massachusetts
. Her numerous television movie credits include
The War Between the Tates
as a student involved with her professor;
Stand By Your Man
, in which she showcased her singing voice playing country music legend Tammy Wynette;
Love for Rent, A Girl of the Limberlost, The Entertainer, Stephen King's It
and
Danielle Steel's Jewels
. Her most recent role is Martha Kent on
Smallville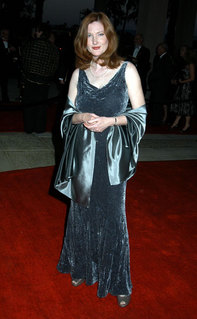 Quick Facts
Annette's actual birth name is Annette Toole.
Her astrological sign is Aries.
Annette is married to actor Michael McKean, who played Perry White in the Smallville episode Perry.
She has two daughters from her first marriage.
She is 5'4, the same height as Allison Mack and Kristin Kreuk.
She currently lives in Los Angeles.
Trivia
She had her first romantic leading role in the movie, One on One.
One of her interests is knitting.
She began to perform as a dancer on The Danny Kaye Show at 16.
She doesn't have a tattoo on her lower back, as many people thought after an scene in the episode Crusade of Smallville. The actress herself answered this question in Twitter:

@JimmyJindo Annette O'Toole (10:29PM April 26)

Nope. Tattoos only look good on Popeye.

Annette O'Toole likes fellow actress Marcia Cross.
She had many guest starring roles as a young child.
She took dancing lessons from her mother who was a dance teacher in Houston.
Most mothers are proud of their children, and O'Toole felt that way when her television "son", Tom Welling, directed for the first time for the episode Fragile.[1]
An interview with Annette can be found in Issue 8 of Smallville.
Filmography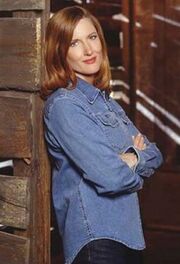 Smallville .... Martha Kent (132 episodes, 2001-2007)
The Huntress .... Dottie Thorson (28 episodes, 2000-2001)
Final Descent (1997) (TV) .... Connie Phipps
Nash Bridges .... Lisa Bridges (22 episodes, 1996-1998)
Imaginary Crimes (1994) .... Ginny Rucklehaus
A Mother's Revenge (1993) .... Ellen Wells
White Lie (1991) (TV) .... Helen Lester
Love at Large (1990) .... Mrs. King
Stephen King's It (1990) .... Adult Beverly Marsh
Bridge to Terabithia (1985) (TV) .... Miss Edmunds
Superman III (1983) .... Lana Lang
48 Hrs. (1982) .... Elaine
Foolin' Around (1980) .... Susan
King of the Gypsies (1978) .... Sharon
One on One (1977) .... Janet Hays
Smile (1975) .... Doria Houston (Miss Anaheim)
My Three Sons .... Tina (1 episode, 1967)
Promotional Picture Gallery
References
External links