Allison Mack (born July 29, 1982) starred as Chloe Sullivan on the CW series Smallville. She also directed several episodes in Season Eight and Season Nine. She and co-star Kristin Kreuk were close friends prior to the exposure of Mack's criminal involvement in NXIVM. Allison is a German-American film and television actress. Allison was born in Preetz, Germany to Mindy and Jonathan Mack (Jonathan is an opera singer who was performing there at the time). When Mack was two years old, they moved back to the United States. She then began studying at "The Young Actors Space" located in Los Angeles when she was seven.
Career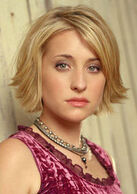 Mack began acting at the age of four in commercials for German Chocolate. She then went into modeling for a short period because her mother thought she "looked cute in clothes." Her first major TV role came in an episode of the WB series 7th Heaven, where she gained a lot of attention playing a teenager who cut herself.
In 2000, she starred in two short-lived series: Hiller and Diller and Opposite Sex. She also starred alongside Sam Jones III in an R. L. Stine miniseries The Nightmare Room. Her filmography includes Eric Stoltz's directorial debut My Horrible Year!, where she plays a girl having great difficulties in her life as she turns sixteen, and Camp Nowhere.
In 2006 Mack provided the voice of the sister of the main character in the Warner Bros. CGI movie, The Ant Bully. Also in 2006, Allison provided the voice of a museum curator named Clea in an episode of The Batman (who bore a deliberate resemblance to Mack).
Not only is Allison an accomplished actress, she is also a good singer and dancer. In her free time, Allison likes to go to the movies and theater, read, listen to music, and hang out with friends and family. Allison's family, her Dad (Jonathan Mack), Mom (Mindy), older brother Shannon, and little sister, Robyn, live in Southern California. Allison lives in Vancouver, B.C. where, Smallville was filmed.
Allison was set to direct an episode of Season Seven in March or April, 2008. Unfortunately, her directorial debut was canceled due to the Writers' Strike. She got a second chance at directing in Season Eight, when she directed episode 13 Power. And the next year directed again - this time the Season Nine episode Warrior. Also, she provided voice over for Power Girl in the animated movie adaption of the comic book Superman/Batman: Public Enemies.
NXIVM and criminal prosecution
Allison Mack and her mentor Keith Raniere, creator of NXIVM, were accused of luring women to a sex cult disguised as a self-help group and then brand them with Keith Raniere's initials. Mack was the leader of a secret group called D.O.S.[1]
On April 2018 she was arrested with charges including sex trafficking. A year later on April 8, 2019, Mack pleaded guilty to racketeering conspiracy and racketeering charges, and was scheduled for sentencing in September 2019. [2] The conviction was postponed by the court to grant sufficient time to conduct pre-sentencing investigations.
Mack married Nicki Clyne, another actress involved in NXIVM, in a sham green card marriage.
Quick Facts
Allison has green eyes.
Her astrological sign is Leo.
Her height is 5'4" (163 cm).
Allison was listed #22 among the 50 Sexiest Women in the Femme Fatales magazine in its January–February 2005 edition.
Allison has a German Shepherd/Malamute puppy named Phantom and a cat named Bosley.
Allison Mack represented Smallville and The CW on the cover of TV Guide's 'Returning shows" post-strike special issue.
Along with Tom Welling, Allison Mack has appeared in every season of Smallville.
Allison was credited in the main cast credits in every episode that she appeared in.
Trivia
An interview with Allison can be found in Issue 2 of Smallville.
Allison played two different characters during the forth season of Smallville; Chloe Sullivan, and Dawn Stiles  possessing Chloe's body (Spirit).
Allison played two different characters during the fifth season of Smallville; Chloe Sullivan, and Gretchen Winters possessing Chloe's body (Tomb).
Allison played three different characters during the eighth season of Smallville; Chloe Sullivan, Brainiac possessing Chloe's body (Legion), and Eva Greer disguised as Chloe (Injustice)
Allison played two different characters during the ninth season of Smallville; Chloe Sullivan, and Silver Banshee possessing Chloe's body (Escape).
Allison's got Superman connections outside of Smallville. In 2009, she voiced DC superheroine Power Girl (cousin of the Earth-Two Superman), making Allison the first and to date the only actress to ever portray Power Girl in an authoritized film adaptation.
Filmography
Superman/Batman: Public Enemies (2009)
The Batman (2006)
The Ant Bully (2006)
Smallville (2001-2011)
My Horrible Year! (2001)
Opposite Sex TV series (2000)
Hiller and Diller' TV series (1997)
Honey, We Shrunk Ourselves (1997)
Unlikely Angel (1996)
The Care and Handling of Roses (1996)
Stolen Memories: Secrets from the Rose Garden (1996)
Dad, the Angel & Me
No Dessert, Dad, Til You Mow the Lawn (1994)
Camp Nowhere (1994)
A Mother's Revenge (1993)
Night Eyes Three (1993)
A Message from Holly (1992)
A Private Matter (1992)
Living a Lie (1991)
The Perfect Bride (1991)
Switched at Birth (1991)
I Know My First Name is Steven (1989)
Police Academy 6: City Under Siege (1989)
Promotional Picture Gallery
External links
References
↑ Meier, Barry. (17 October 2017) Inside a Secretive Group Where Women Are Branded. The New York Times.
↑ Lang, Nico. (24 April 2018) 'Smallville' Actress Arrested For Sex Trafficking Married Female Cult Leader, Court Documents Confirm. Into.
Community content is available under
CC-BY-SA
unless otherwise noted.