Doctor Strange in The Multiverse o Madness - The Loop
Play Sound
Allison Mack (born July 29, 1982) is a German-born American film and television actress who most famously starred as Chloe Sullivan on the WB/CW series Smallville, and also directed two episodes in Season Eight and Season Nine. She was the only cast other than Tom Welling (who played Clark Kent) to have appeared in every season of Smallville.
Mack was born in Preetz, West Germany to Melinda "Mindy" Mack, a schoolteacher and bookkeeper, and Jonathan Mack, an opera singer who is performing in Europe at the time. When Mack was two years old, her family moved back to the United States. She then began studying at "The Young Actors Space" located in Los Angeles when she was seven. She and co-star Kristin Kreuk (who played Lana Lang) were close friends prior to the exposure of Mack's criminal involvement in the cult NXIVM.
Career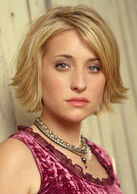 Mack began acting at the age of four in commercials for German Chocolate. She then went into modeling for a short period because her mother thought she "looked cute in clothes", and an old autographed picture of her as a child still lies framed on the wall of a Taco Bell restaurant across the street from Warner Bros. Studios in Burbank, California.
Mack's acting career started in 1989 in the film Police Academy 6: City Under Siege, where she played an unnamed little girl. Her other filmography includes Camp Nowhere (1994), Honey, We Shrunk Ourselves! (1997), and Eric Stoltz's directorial debut My Horrible Year! (2001), where she plays a girl having great difficulties in her life as she turns sixteen.
On the small screen, Mack made a number of appearances starting from 1989, including a short-lived sitcom Hiller and Diller in 1997-1998. Her first major TV role came in 1998 in an episode of the WB series 7th Heaven, where she gained a lot of attention playing a teenager who cut herself. In 2000, she starred as an ensemble cast in a short-lived Fox series Opposite Sex alongside Milo Ventimiglia and Chris Evans. She starred alongside Smallville co-star Sam Jones III (who played Pete Ross) in an R. L. Stine miniseries The Nightmare Room in 2002. She also guest-starred in the Australian-American comedy series Wilfred opposite Elijah Wood in 2012 and 2014, as well as series like Riese (2009-2010) and American Odyssey (2015).
In 2006 Mack provided the voice of the sister of the main character in the Warner Bros. CGI movie, The Ant Bully. Also in 2006, Allison provided the voice of a museum curator named Clea in an episode of The Batman (who bore a deliberate resemblance to Mack). In 2010, she voiced in the animated series Dirty Little Secrets.
Not only is Allison an accomplished actress, she is also a good singer and dancer. In her free time, Allison likes to go to the movies and theater, read, listen to music, and hang out with friends and family. Allison's family, her Dad (Jonathan Mack), Mom (Mindy), older brother Shannon, and little sister, Robyn, live in Southern California. Allison lives in Vancouver, British Columbia where Smallville was filmed.
Allison was set to direct an episode of Season Seven in March or April, 2008. Unfortunately, her directorial debut was canceled due to the Writers' Guild of America strike. She got a second chance at directing in Season Eight, when she directed the episode Power. And the next year directed again - this time the Season Nine episode Warrior. Also, she provided voice over for Power Girl in the animated movie adaption of the comic book Superman/Batman: Public Enemies.
NXIVM and criminal charge
Allison Mack and her mentor Keith Raniere, creator of NXIVM, were accused of luring women to a sex cult disguised as a self-help group and then brand them with a design that combined their respective initials. Mack was the leader of a secret group called D.O.S.[1] Mack was introduced to NXIVM years earlier through Kristin Kreuk but it was Nancy Salzman and her daughter Lauren who recruited Mack. Though Kreuk left, Mack also tried to recruit some of her Smallville co-stars to join NXIVM including Callum Blue and Alaina Huffman. After Smallville ended, Mack moved to New York to take more NXVIM courses.
On April 2018, she was arrested with charges including sex trafficking. She was later released on April 24 on a bond of 5 million dollars, and would be allowed to travel only for court appearances, attorney meetings and other approved reasons, prohibited from using cellular services or the internet while under house arrest being electronically monitored. A year later on April 8, 2019, Mack pleaded guilty to racketeering conspiracy and racketeering charges, and was scheduled for sentencing in September that year.[2] The conviction was postponed by the court to grant sufficient time to conduct pre-sentencing investigations.
Mack married Nicki Clyne, a Canadian actress also involved in NXIVM, in a sham green card marriage to help Clyne obtain citizenship. She filed for divorce from Clyne in December 2020.
After three years of house arrest at her parents' home in Los Alamitos, California, Mack stood trial on June 30, 2021 at the Eastern District Court in Brooklyn, New York. U.S. District Judge Nicholas Garaufis sentenced her to three years in prison, as well as a $20,000 fine and 1,000 hours of community service. She will surrender to authorities for imprisonment on September 29, 2021, and her attorneys have requested that she be allowed to serve time in a prison on the West Coast closer to her family in Orange County. On September 13, Mack reported to the women's prison of the Federal Correctional Institute, Dublin (FCI Dublin) in Alameda County, California, about 345 miles (555 km) away from her parents, and began serving her felony term two and a half week before her sentenced deadline.
Quick Facts
Allison has green eyes.
Her astrological sign is Leo.
Her height is 5'4" (163 cm).
Allison was listed #22 among the "50 Sexiest Women" in the Femme Fatales magazine in its January-February 2005 edition.
Allison has a German shepherd/Malamute puppy named Phantom, and a cat named Bosley.
Allison Mack represented Smallville and The CW on the cover of TV Guide's "Returning shows" post-strike special issue.
Along with Tom Welling, Allison Mack has appeared in every season of Smallville.
Allison was credited in the main cast credits in every episode that she appeared in except for Season 10 where she is credited for her respective appearances.
Trivia
Filmography
Film
Police Academy 6: City Under Siege (1989)
Night Eyes Three (1993)
No Dessert, Dad, Til You Mow the Lawn (1994)
Camp Nowhere (1994)
Honey, We Shrunk Ourselves (1997)
The Ant Bully (2006)
Alice & Huck (2008, short film)
You (2009)
Frog (2009, short film)
Superman/Batman: Public Enemies (2009, direct-to-video)
Marilyn (2011)
Television
I Know My First Name is Steven (1989)
Shangri-La Plaza (1990, TV movie)
Empty Nest (1990)
The Perfect Bride (1991, TV movie)
Switched at Birth (1991)
Living a Lie (1991, TV movie)
A Private Matter (1992, TV movie)
A Message from Holly (1992, TV movie)
Evening Shade (1992-1993)
A Mother's Revenge (1993, TV movie)
Sweet Justice (1995)
Dad, the Angel & Me (1995, TV movie)
Stolen Memories: Secrets from the Rose Garden (1996, TV movie)
The Care and Handling of Roses (1996, TV movie)
Unlikely Angel (1996, TV movie)
Hiller and Diller (1997)
7th Heaven (1998)
Providence (1999)
Opposite Sex (2000)
Kate Brasher (2001)
My Horrible Year! (2001, TV movie)
Smallville (2001-2011)
The Nightmare Room (2002)
The Batman (2006)
Riese (2009-2010)
Dirty Little Secret (2010)
Wilfred (2012-2014)
The Following (2015)
American Odyssey (2015)
Lost in Oz (2016)
Producer
Alice & Huck (2008, short film)
Blink (2011, short film)
Zack & Luc (2014, short film)
Promotional Picture Gallery
External links
References